Elevate 2023 (Workday)
Workday Update: Thanks to You, Methodist Is Reaching Key Milestones. Here's Where We Stand on Known Issues
Published: Feb. 14, 2023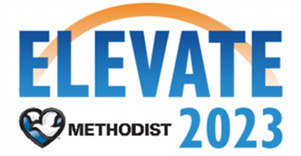 Since going live with Workday on Jan. 1, the Elevate 2023 project team has shifted from developing an integrated HR, finance and supply chain system to focusing on user feedback and adjusting the system accordingly. Your feedback and engagement have helped the Methodist team achieve key milestones in adapting to Workday.
Halfway through February, we're pleased to report that over 80% of staff have logged into Workday, employees have successfully completed more than 1,200 expense reports, and we have processed over 6,000 purchase orders. We have also resolved over 250 Workday-related incidents.
Despite a relatively smooth transition at the outset, we're encountering issues that need to be addressed. Below, we have outlined updates to a few known issues and included relevant details. Our next scheduled communication providing updates on known issues and resolutions will be sent the week of Feb. 27.
We encourage and welcome your continued feedback and engagement during this time. If questions persist or you need Workday support, please contact your functional area support teams. Learn more about that process here.
Supplier Invoice Request (Check Request) and Supply Requisition
The routing and approval matrixes for the Supplier Invoice Request and Supply Requisition processes continue to be reviewed by the executive teams at each affiliate. As we receive each affiliate's matrix, the Workday program is configuring the system to align with the appropriate approvals and routing. As we continue to configure the system, please reach out to @email if you have questions or need immediate routing fixes.
Employee License and Certification Tracking
Tracking of employee licensure and certifications is scheduled to be uploaded in Workday this month. If employees or managers have questions regarding expirations, please contact Human Resources at (402) 354-2200.
Employee Training
Training and Job Aids can be located in Workday Learning. For attendance forms outside of Workday Learning courses, please send them interoffice to Human Resources at the 825 Building, or email them to @email.
Recruiting Updates
We're currently reviewing recommendations and testing the known issues below. We will provide updates in upcoming communications as items are moved to production.
Situational New Hire process defects

Applicant ability to enter work history or attach resume

Identified efficiencies in "My Job Requisitions" reporting for managers