Elevate 2023 (Workday)
Workday Training Materials Now Available
Published: Nov. 16, 2022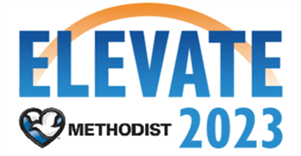 Elevate 2023 (Workday) is coming, and the project team wants you to be prepared for this exciting initiative within Methodist. Workday will allow the health system to implement automated/standardized processes across departments. It'll provide real-time data with drill-down capabilities, which is integral in the ever-changing health care environment. 
We know that change can be hard and a transition of this magnitude can be overwhelming. That's why the project team is excited to announce that preliminary training materials for Elevate 2023 are now available!
While the training isn't mandatory, employees are strongly encouraged to review these quick-hitting informational videos and the more detailed Job Aid PDFs, all of which aim to make the transition to the new platform seamless. Please reference this Online Learning Playbook (link below) as both a guide to the training and a checklist for tracking your progress.
The training materials in NetLearning will lay a foundation for employees and managers to understand key Workday concepts. There are additional training topics that are position-specific and more detailed; a hands-on approach is more effective for this kind of learning. Thus, these topics will be made available once you have access to Workday on Jan. 1 and can review them in real time. 
You can access NetLearning from your desktop icon or the link included in the Online Training Playbook.
•    Link to NetLearning: https://lms.healthcaresource.com/MyNetLearning/Login.aspx?id=571 
•    Username: Employee ID Number (no "e")
•    Password: employee (click "Forgot Password" to reset your password if employee is not working) 
After accessing NetLearning, click on "Learning Opportunities," then type "Workday" in the search field. The training materials will be available in NetLearning until Dec. 30 and then permanently in Workday Learning for quick reference or a refresher as needed. 
Implementation to Workday is a big undertaking for everyone in the health system. Employees can do their part in this project's success by completing the training prior to the Jan. 1 launch to ensure a smooth transition for the organization.