News and Events
Why I Came, Why I Stayed: Stephanie Hogan Feels 'Part of Something Bigger' at Methodist
Published: Jan. 23, 2023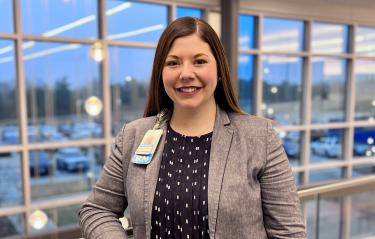 This week in Employee Connections, we're launching a new feature aimed at highlighting employees across Methodist Health System. In "Why I Came, Why I Stayed," you'll get to know people who are making a difference every day at Methodist and how they contribute to providing The Meaning of Care.
Stephanie Hogan
Senior Director of Specialty Services
Methodist Physicians Clinic
Tell us more about yourself and your background with Methodist.
My journey with Methodist started in 2008 as a bedside nurse on the general med floor (the old school 7 South at Methodist Hospital). I moved to Omaha the same day that I took nursing boards and jumped right in! I spent three years with that team and learned an incredible amount.
I shifted to Methodist Physicians Clinic in 2011 – originally as a procedure nurse at the Women's Center. I finished my MSN with a focus in health care administration in 2013, then transitioned into management. From there, it's been a whirlwind of learning!
My mini tribe of little people occupies the majority of my time away from work. My husband and I have four kiddos under the age of 8 (all four born at Methodist Women's Hospital – not all in a patient room, but that's a story for another day). My husband's oldest attends the University of Nebraska-Lincoln and is the best big brother to our littles that we could ever ask for!
Why Methodist? What attracted you to the organization?
While finishing nursing school, I knew I wanted to be in the Omaha area, and the culture of Methodist really jumped out to me. I knew I wanted somewhere where I could learn and grow, and I saw that opportunity with Methodist.  
When I came for my interview, you could tell that the people genuinely enjoyed what they were doing. I'm not sure what I expected walking through the doors, but I remember being pleasantly surprised by the friendliness of those we passed in the halls and impressed by the interactions witnessed with patients. I also reached out to a family member who had previously worked for the system. She told me, "I'll always bleed Methodist blue," and I was sold.
What is it about Methodist that keeps you coming back?
I have genuinely loved each of my roles within Methodist. Albeit varied, they have all provided challenges, education and professional fulfillment. There's something about what we witness in health care that weaves us together indefinitely, and through all of life's ups and downs, my Methodist family has been a huge part of celebrating and supporting me.
Admittedly, I feared losing touch with my "why" when I transitioned into administration. But what I found was quite the opposite. I'm surrounded by people who are passionate about patient care and the patient experience, and a team that's dedicated to innovation. Being a part of someone's story isn't something that should be taken lightly, and once you find an organization that is built on a patient-centric culture, I don't know why you wouldn't stay. That undercurrent of feeling like you're part of something bigger, something that supports others through their worst and best moments, that's what it's all about.
Are you interested in being featured in "Why I Came, Why I Stayed?" Do you have a Methodist coworker whose "why" would be perfect for this feature? Visit our Contact page and select "Employee Connections Submission or Story Idea."