Awards and Achievements
Maureen Schuette Honored With Innovation Award, Wins Smartwatch
Published: Nov. 10, 2022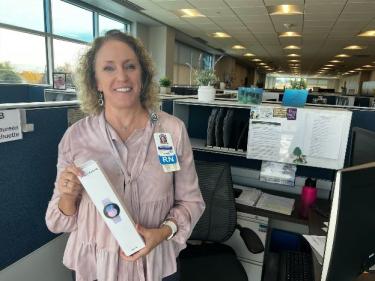 The Operational Innovation (OI) team is excited to announce that Maureen Schuette, a Pre-Surgery RN, is the third-quarter Innovation Award smartwatch winner!
Maureen's winning idea relates to the calls her department makes to patients in the days leading up to surgery. She noted that some patients who are normally called 24 hours before their procedures need to be called earlier so they can stop taking certain medications 48 hours beforehand. By adjusting the order in which they call patients, Maureen and her team have prevented a number of surgeries from being postponed or canceled.
Thank you, Maureen, for this innovative idea!
More on the Innovation Award
The Innovation Award was introduced in April 2022 to celebrate employee-generated ideas to reduce avoidable spending, increase efficiencies, boost revenue and enhance the quality of care we provide.
The award replaced and combined the previous Operational Innovation Golden Idea Award (managed by the OI team) and the Sensible Savings Award (managed by the Value Analysis team). Ideas may be submitted by full- and part-time employees below the service leader/manager level.
Submissions for the Innovation Award must be made through the NMHS Service Portal on the intranet home page (NMHS Service Portal > Request Something > Innovation Award Submission). You can also follow the link provided on the Operational Innovation intranet page. If you have any questions regarding the Innovation Award, email @email.
More on

Operational Innovation
The OI department is a five-member team that works across Methodist Health System to promote and foster a culture of continuous improvement (CI), partner with system leaders to facilitate CI initiatives, and educate and coach teams on CI methodology and tools.
For more information about Operational Innovation, its available services and its educational offerings, visit the OI intranet site (Intranet Home > Departments > Operational Innovation). You can also reach out to an OI team member directly either via phone or email.