Leadership Updates
Introducing Commute With Care, Part of Methodist's Sustainability Plan
Published: Oct. 4, 2022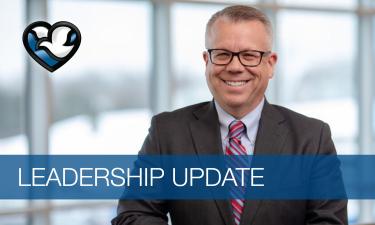 A message from Bill Vobejda, vice president of integrated service
I read a statistic in a recent report from the House Ways and Means Committee that U.S. health care systems are responsible for an estimated 10% of national greenhouse gas emissions, which cause extreme weather events and contribute to worse health outcomes.
A couple of other notable stats from the report:
$820 billion

– the annual cost of air pollution and the climate crisis on the United States health care system

114

– climate-related U.S. hospital evacuations executed between 2000 and 2017, with more than half requiring the evacuation of over 100 patients
Climate change is the topic of so many conversations. We live in a world with more unpredictable precipitation and higher temperatures. When we have such extremes in temperatures or other weather-related events, it taxes our buildings significantly. We are large users of the utilities. We have a huge employee base, and we are a 24/7 business. It all adds up quickly.
So as a health care leader in our community, we have to address climate change challenge within our organization. We have to provide a healthier and safer environment for the communities we serve. That's why sustainability at Methodist became a key priority in 2016 and a Master Plan adopted in 2018.
While we've made great strides in a fairly short amount of time, we are working on a number of new efforts to make an impact. One of those new initiatives is something we call "Commute With Care."
Commute With Care
When building our sustainability plan, we surveyed employees several times. There were a few common themes that kept surfacing – public transportation and ride-sharing. In fact, 12% of our overall emissions as a system come from employee commuting to and from work.
In working with Verdis Group, our sustainability consultant/partner, we feel we have built a plan that makes these options accessible while eliminating obstacles.
The Commute with Care Program is a new option we hope you'll consider taking advantage of its benefits. The sustainable commuting program will provide:
A free Metro bus pass

Free emergency rides home

Free online access to Methodist's Metro Rideshare carpool matching portal

Improved bicycle infrastructure
We recognize that the price of gas is high, and having reliable transportation can be challenging. Our goal with this program is to reduce the number of single-passenger trips to our campuses. We saw some real change with the pandemic on many levels – specifically in the number of our employees who began working remotely. Fewer employees working on-site in some of our locations, resulting in fewer cars on our campuses, helped in many ways.
We understand that ride-sharing isn't something many employees can do every day, but we're confident that employees can create positive change by doing so even occasionally. Some of our locations are very convenient to bus lines, and we have campuses in which ride-sharing can be a real option for employees.
We've made registration for this program very easy. Simply complete the information available on the Commute with Care page and let your commuting journey begin! Once you complete the registration process, more information about each of the above programs will be provided.
What We've Accomplished
When we began our focus on sustainability, we had five specific goals: employee engagement, utility reduction, waste diversion/recycling, water management and active commuting.
We're continually tracking our progress in each of these areas, and you can follow along. As you can see on our new sustainability dashboard, we're already well on our way toward positive change. The dashboard will be updated regularly and is a wonderful tool for you to monitor our efforts and explore ways you can be part of sustainability.
Many of you have said this work is important to you and that you want to work for a company that believes in these kinds of initiatives. We're listening. And we believe that taking these steps in the sustainability arena is the right thing to do. It makes us a good community partner.
Our focus at Methodist is the health of the people in our communities. Doing our part to create a healthier environment will go a long way in making that happen.