Commute With Care Program
Reducing employees' carbon footprint through community transportation.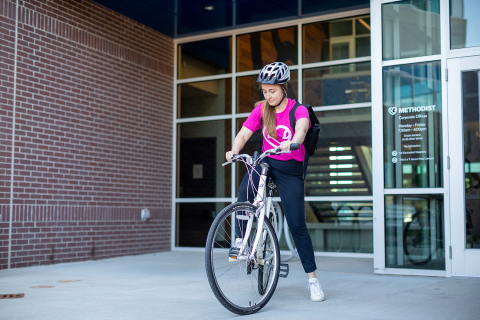 Methodist Health System understands the connections between everyday commuting, our community and our health. Sustainable commuting (taking mass transit, biking, walking and carpooling) promotes public health by lessening air pollution from single-occupancy vehicle trips. It also improves cardiovascular and pulmonary health while encouraging a sense of community. That's why we're excited to offer the Methodist Commute with Care Program.
Program Benefits
The Commute with Care Program encourages individuals to take advantage of sustainable commuting through the following benefits:
All Methodist Health System employees and students are welcome to enroll in the free Metro bus pass program. Using the MyRide app or physical pass, participants can easily enjoy free bus access whenever they want.
A free emergency ride home for active commuters in case of unexpected circumstances (like if your carpool partner goes home sick or you need to pick up your child and can't wait for the bus).
Free online access to Methodist's Metro Rideshare carpool matching portal
Improved bicycle infrastructure