Awards and Achievements
Taylor Harding Honored With The DAISY Award
Published: Aug. 9, 2022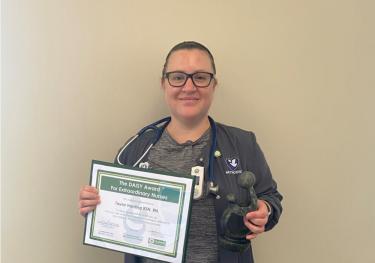 Long before Taylor Harding, DNP, RN, received her nursing degree from Nebraska Methodist College, she knew she wanted to care for geriatric patients. So landing her first nursing job in Methodist Hospital's Acute Care for Elders (ACE) Unit in 2015 was a dream.
"They have so much wisdom, so many stories," Harding said of older adults. "They have so much to tell us, and we have so much to learn from them. They've been through so much, and they deserve good care."
Jeanene Hatcher Camp of Florida and her 86-year-old mother, Beverly – a paraplegic – were on the receiving end of Harding's good care in January. Beverly was admitted to Methodist Hospital for an infected pressure ulcer, or bedsore.
"She immediately went out of her way to make sure my mother had the right cushions with the right placement," Jeanene said. "She was patient, caring. She asked my mother what she could do to make her feel more comfortable."
Given the private location of her patient's wound, Harding made it a point to ask Beverly if she'd prefer her daughter to leave the room for each dressing change.
"And anything that made my mother more comfortable, she was on it," Jeanene said. "For example, one time she noticed that my mother's hands were dry. She got out the hand cream and started rubbing her hands and arms. And I thought, 'Oh my gosh!' Just her noticing little things like that. She didn't have to do that."
When Jeanene saw a sign next to the hospital elevator promoting The DAISY Award – a national honor that recognizes the extraordinary efforts of nurses – one person came to mind.
"I brought the DAISY pamphlet up to my mother, and she said, 'Yes! Please, please, please nominate her! I've had great care from everyone, but she is so above all the others. She needs to know that.'"
Receiving the award at a recent surprise celebration was an honor, Harding said. And although it was largely the result of Beverly's care, Jeanene said The Meaning of Care was certainly extended to her, too.
"She was patient with me when I had questions, and she honored my requests. I could sleep at night and not worry. I knew my mother was being beautifully taken care of. I knew that she was content. Most importantly, I knew that her needs were being met. Just tremendous. She's everything you'd want a nurse to be."