Awards and Achievements
Kari Kersch Is Methodist Women's Hospital's Employee of the Quarter
Published: March 25, 2022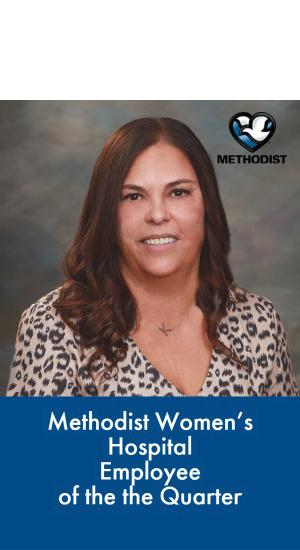 Lead perinatology nurse Kari Kersch is the Methodist Women's Hospital Employee of the Quarter for the second quarter of 2022.
She was nominated by a colleague, who wrote:
"Kari is the definition of a hard-working employee. She always goes above and beyond in every aspect, whether it's to help a coworker with a question or pointing a patient in the right direction. She is incredibly personable and so kind to everyone she comes into contact with. Kari finishes every job she starts and does it with integrity and compassion. She is the definition of teamwork and displays respect to each individual in the clinic. Her job alone is patient-focused, but she goes above her duty to make sure the patient has all the information they need from point A to point B. Her warm smile and contagious giggle makes each day a little better."
Congratulations, Kari, on being selected as the Methodist Women's Hospital Employee of the Quarter!
---
The Methodist Women's Hospital Employee of the Quarter award program began in the first quarter of 2013. Award nominations may be submitted by physicians, supervisors, coworkers and staff. Judging is based on how candidates embody the mission and core values of Methodist Women's Hospital: patient focus, integrity, excellence, learning, compassion, teamwork and respect.
Employee of the Quarter award winners are automatically considered for the Caring Kind Employee of the Year award, as are Methodist Hospital's Employees of the Month.
To nominate a fellow employee for the Employee of the Quarter award, submit a completed application form to Administration. Each nomination is kept on file for review for four quarters. The "Employee of the Quarter - MWH" application form can be accessed here.