Awards and Achievements
Linda Heidemann Honored With Caring Kind Award
Published: Aug. 16, 2021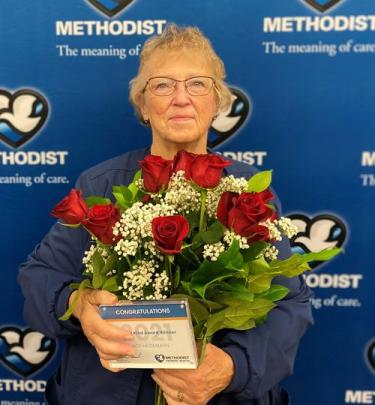 At a ceremony held Aug. 12 in Methodist Fremont Health's Health Park Plaza and streamed on Facebook Live, registered nurse Linda Heidemann from Dunklau Gardens was honored as this year's Caring Kind Award winner.
An excerpt from Linda's nomination: 
Linda Heidemann started her career at MFH/Dunklau Gardens in 1999 as an RN. She has experienced and been a part of SO many changes in our organization over the years and has always been supportive of change and progress! She is an engaged employee and participates in the Unit Based Council and supports facility process improvement and progress. She is a great example that even well-seasoned nurses can learn new tricks when you have the right attitude.
Her commitment to serving our residents is unmatched! She is truly "patient centered" each and every day she works and also the days she doesn't work, as she is often comes in on her days off to deliver snacks she has made to staff and residents. Staff recalled Linda coming in as a surprise to residents with visits and treats, making banana bread and delivering this room to room with her grandkids giving residents and the kiddos an opportunity to interact. Her level of kindness and compassion for her work as a nurse is such a fantastic demonstration to others and the many nurses that she orients and works with. She has a great sense of humor, and the residents enjoy and appreciate that and know that Linda can be trusted to do what is right for them.  
Linda RARELY misses a day and OFTEN picks up needed shifts for nights. She consistently is willing to fill holes when she knows another employee needs time off or is on FMLA. Her coworkers really appreciate her willingness to really "work" the floor, helps her MAs with resident cares, passes meds and shows her appreciation to her team with many thank you's every time she works.  
Linda celebrated her 75th birthday this past year, and while the rest of us wait for the day we can retire, Linda embraces each and every day that she can share her time and talent in the workplace! Her level of "respect" for both residents and staff is valued, and she has a special way of just lifting people up!  
The Caring Kind Award is certainly an award that is befitting of a most deserving person who has and continues to give so much to her career as a nurse!
Our other two finalists –  registered nurse Jenny Eyler (Acute Nursing – OB) and nursing assistant Maira Ritthaler (Behavioral Health – Inpatient) – were also honored. And after hearing Melinda Kentfield, vice president and chief nursing executive, read from their nominations, it was clear why they were also so deserving of this award. These three women truly represent The Meaning of Care.