COVID-19
A Reflection for Hope and Resilience: Weathering the Storms of Life
Published: July 14, 2021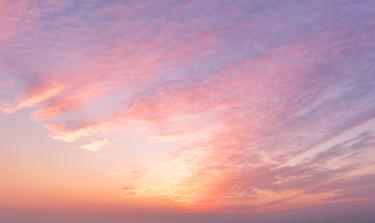 This is part of a series of regular messages of hope and resilience that will be made available through Employee Connections and printed copies for those who do not have easy access to computers. Read previous reflection messages here.

I recently came across one of the CareNotes with this title: "Responding to Life's Challenges that are Out of Your Control" by Diane Pharo, SCN. She writes, "Undoubtedly, unanticipated situations arise when we come face to face with the stark and frightening reality of uncertainty. Our world can seem shaken in the threat of the unknown and the vulnerability of not being in control."  
There were three days in the past week that reminded me that we do not control the weather: 
A Friday night of intense storms with high winds that destroyed trees and damaged houses and cars in many areas of our city
A Saturday morning of heavy rain that interrupted activities and flooded some streets, encouraging me to drive slower
And then on Sunday, almost perfect weather and a great day to be outside with sunshine and gentle breezes!
With further reflection, this reminds me of a variety of experiences when I was in the hospital setting on two of those three days, along with others providing health care:
One day we found ourselves facing a very difficult loss and issues with a very sick patient, and we wondered how this would end.
On another day we worked through a full schedule with few breaks and little time for reflection or conversation, but with good patient outcomes and satisfaction in our caregiving.
And then there are days when we find ourselves having time to take a deep breath, chat with a colleague and appreciate the work done and the care provided. 
We each have our own challenges to face and overcome, whether they be something in our personal lives or are work-related. The question is not, "How do I avoid these challenges," but rather, "How should I respond?" especially when it is something out of my control. The severe weather and its damage, and the almost lifeless patient entering our ED both remind us that there are things beyond our control, and the reality of uncertainty sets in. 
However, even amid the storms of life, it is helpful to "cultivate a hopeful attitude" as we go about our daily tasks, whether that be in the ED, the NICU or the surgical suite of any of our hospitals. Our attitude toward the challenges we face can make a lot of difference. 
Illustrator Mary Engelbreit offers sound advice: "If you don't like something, change it; if you can't change it, change the way you think about it." 
Weather forecasts are to help us prepare for the severe storms that may be coming and the good weather that may be enjoyed. The Emergency Department is there in readiness for the most difficult and needy patient and yet provides the most gentle of care for folks of all ages. I'm convinced that together, "we can emerge from each challenge, crisis and uncertainty whole and intact, and perhaps even stronger." - (CareNotes)
- Chaplain Dan Johnston, Methodist Women's Hospital
Methodist chaplains' reflections for hope and resilience are published in Employee Connections on the second Wednesday of the month.
***
We know these are difficult times. If you would like to speak with a chaplain for support, please feel free to reach out.
Methodist Hospital and Methodist Women's Hospital: Call Operator "0" and ask for the chaplain to be paged.
Methodist Fremont Health: Call Scott Jensen at (402) 290-1408.