Leadership Updates
Leadership Update: A Fond Farewell and Words To Live by From Steve Baumert
Published: June 28, 2021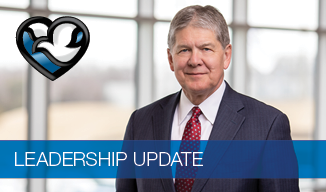 It's hard to believe that in two days I'll close the door to my office one last time. Wednesday, June 30, will be my last day as president and CEO of Methodist Jennie Edmundson Hospital.
It has truly been an honor to lead the Jennie Edmundson family for the past 14 years while also serving as a leadership partner within Methodist Health System. The timing is right for my retirement. We have a great leadership team in place, and I look forward to handing over the keys to the building to Dave Burd come July 1.
When I began my career in 1981 as the assistant director of physical therapy, I certainly never anticipated that I would become CEO, following in the footsteps of such great visionaries as Edward Lynn and David Holcomb. They provided a solid foundation and lessons I still carry with me.
They taught me the value of listening, as most problems have multiple sides to the story. I combined that with my goal of wanting to be genuine and approachable – and my strong belief in the power of "and." Many problems are not an either-or. We can do both. We can find ways to lower the cost of health care and take better care of our patients. We have proven the power of "and" time and time again.
Jennie Edmundson's culture stood out to me immediately when I began seeing patients as a physical therapist. I was moved by the family atmosphere. Jennie Edmundson Memorial Hospital was founded by the Women's Christian Association (WCA) in 1886. Its sole purpose was to take great care of the community. Making our new employees aware of our history and mission remains an integral part of our orientation process today. It's important, and it's served as my moral compass every day. I didn't create the Jennie Edmundson family, but I'd like to think I helped enhance it. I have always wanted to be sure I was making decisions that resulted in great care for this community.
That never rang more true than during this past year, when COVID-19 made its way into western Iowa and impacted our hospital and the entire Methodist organization.
I couldn't be more proud of how we managed and navigated the pandemic, taking care of patients and each other. Every day I saw staff and the community reaching out to us and each other to make sure everyone was OK. When we lost two Jennie Edmundson employees to COVID-19, I was in awe of how the entire organization rallied around our beloved colleagues' departments and helped them celebrate the lives of both individuals. While very difficult for all of us, these moments brought people together across the organization. It was real. We became tighter, just as families do.
While I'm proud of the many changes we've implemented across our service lines and our facility enhancements throughout the years, nothing would have been possible without the great leadership teams that joined me on this journey. I've been surrounded by quality people whose passion for the community and the hospital is unmatched.
We've built a collaborative and strong working relationship between medical staff, administration and those providing care. The doctors at Jennie Edmundson are passionate about the care they provide. They work well together as a physician group and with all the people in the organization. You don't find that just anywhere.
I believe that one of the strengths of being a community hospital is having a local community board of directors. Methodist Health System has recognized the importance of that, and we continue to have a board that's passionate about the health of our communities. For our board members, it's not just about business – it's about taking care of their friends, neighbors and families.
Many have asked what's around the corner for me. My wife, Kathy, and I plan to remain in the Council Bluffs area, and there are two boards I plan to remain involved with. Kathy loves to travel, and she has a long list of places she wants to visit. She may even take me with her! Last but not least, we have five grandchildren, and spending more time with them as Papa is very high on my list.
In closing, my wish for the Jennie Edmundson family and for everyone in the health system is to always remember why you got into health care. Define and remember the days when you've made a difference. We take great care of patients, and we need everyone to keep their drive in doing so.
It's been an honor and a privilege to lead Jennie Edmundson the past 14 years. I've enjoyed getting to know and work alongside so many of you. I will miss many things about this position – but nothing more than the people. On days when I would be frustrated or needed a pick-me-up, I would walk the halls and see The Meaning of Care in action. It's why we all made the decision to be in health care – and I will forever be grateful for the opportunity to work with so many talented people as we strived to improve the health of our communities.