COVID-19
Got Your COVID-19 Vaccination? Here's How To Get Your Vaccine Sticker
Published: June 9, 2021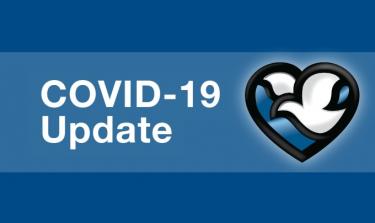 For continuity with our yearly flu shot process, employees who are fully vaccinated from COVID-19 will be given a small sticker to be placed on the front of their employee badge. 
People are considered fully vaccinated two weeks after their second dose in a two-dose series, such as the Pfizer-BioNTech or Moderna vaccines, or two weeks after a single-dose vaccine, such as Johnson & Johnson's Janssen vaccine.
Supervisors have received information and stickers to distribute to staff members who were vaccinated through the health system.
Vaccinated Elsewhere? Let Employee Health Know
Keep in mind that if you received your vaccination outside of the health system, it's important that you provide proof to Employee Health so they're able to update your documentation and provide you with a sticker.
There are two options to do so: 
Option 1: Send a copy of vaccination card to @email. You are encouraged to take a picture of your vaccination card with your phone. Employee Health will update its records and send a sticker for that employee to their supervisor for distribution. 
Option 2: Stop by an Employee Health office with proof of vaccination to pick up a sticker directly. If it's not yet two weeks since your final vaccination dose, you will be instructed on the date when the sticker is valid.
Declining Vaccination
Don't forget to complete a declination form if you do not plan to be vaccinated. This can be revoked if and when you are vaccinated at a later date.