COVID-19
A Reflection for Hope and Resilience: Here Comes the Sun
Published: May 12, 2021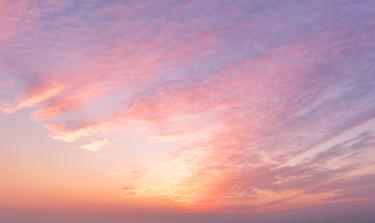 This is part of a series of regular messages of hope and resilience that will be made available through Employee Connections and printed copies for those who do not have easy access to computers. Read previous reflection messages here.

"Little darlin'
Its been a long, cold, lonely winter.
Little darlin' 
It seems like years since it's been here.
Here comes the sun,
Here comes the sun,
And I say,
It's all right."  
-The Beatles
When I was in high school, I went through a period of withdrawal – from friends, activities, even somewhat from family. I sought solitude in long walks and much reading. It was challenging for me and people who cared about me. But I think it was necessary. I was in the process of a deep change that needed to happen – a caterpillar in a cocoon.
On one of the coldest, grayest days in a very cold winter, I walked to school amid the cold winds and mounds of snow all around. At the end of the day, when I got out of gym class and left through the back door, a wonderful transformation had taken place. The sun was out, the sky was blue, and as I walked home, my winter coat over my shoulder, small rivers of clear water – the melting snow – rushed down the street. It was that delicious kind of warm that you feel after you've been cold a long time.
I swear there was a melting in me on the long walk home. Perhaps the old way of life I had been grieving was slowly giving way to the awareness that something new and fresh was coming. I felt such joy! When I got home, I called an old friend whom I had not seen in a while. We decided to get together – me coming back to my life. As I slowly emerged from my sophomore year "cocoon," I started getting involved in the arts, learning to play the guitar, acting in plays – my future self being born.
Our long COVID-19 winter is not yet over. But there are signs of a post-COVID spring that's coming: tentative plans of travel, videos of grandparents hugging long unhugged grandchildren, COVID cases decreasing, inoculations increasing ...
It is the nature of the cosmos, of the Earth, of life, to always be creating and re-creating itself, ever fresh and new. The caterpillar has passed (let us mourn her), and the butterfly rises up into the sunlight and air – something the caterpillar could never have imagined to experience. 
There is something passing (let us mourn it), and something new, fresh and wonderful coming. We, our children and our grandchildren will be that new and fresh life!
- Chaplain Mike McMahon, Methodist Hospital
 
This is the final weekly installment in this series. Methodist chaplains' reflections for hope and resilience will now be published in Employee Connections on the second Wednesday of the month.
***
We know these are difficult times. If you would like to speak with a chaplain for support, please feel free to reach out.
Methodist Hospital and Methodist Women's Hospital: Call Operator "0" and ask for the chaplain to be paged.
Methodist Fremont Health: Call Scott Jensen at (402) 290-1408.