Awards and Achievements
Melissa Stickland Honored With Shine Award for Nursing Assistants
Published: March 17, 2021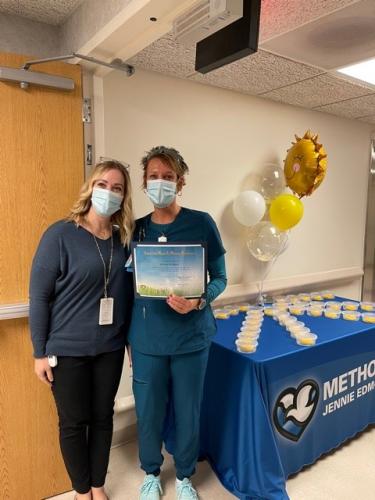 The Shine Award for Nursing Assistants honors these staff members for the special role they play in patient care at Methodist Hospital and Methodist Women's Hospital. Their Supporting Hands assist our nurses In achieving Nursing Excellence and quality patient outcomes. 
---
Shine Award Winner
Melissa Stickland   
Melissa Stickland, a nursing assistant at Methodist Jennie Edmundson Hospital, has been honored with the Shine Award.
She was nominated by a patient's husband, who wrote:
"Melissa took absolutely superb care of my wife by meeting many of her personal and extra needs that kept my wife's attitude good. Melissa also celebrated with us while my wife improved in her health milestones."
Congratulations, Melissa, on receiving the Shine Award. We thank you for all your hard work to show patients and their families The Meaning of Care.
---
Nominations for the Shine Award can be made by patients, family members or fellow staff members. Nominate a nursing assistant by emailing SHINE@nmhs.org or filling out this nomination form.