Awards and Achievements
Methodist Hospital Critical Care Nurse Amanda Harvey Honored With The DAISY Award
Published: March 11, 2021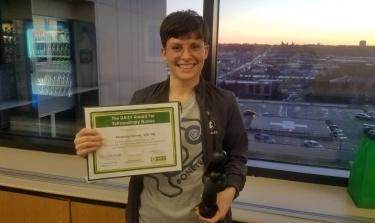 When Jim Hegarty thinks about his brother Dan Hegarty's time in the Methodist Hospital Critical Care Unit, a wave of emotions comes flooding back.
The sorrow of losing a sibling was compounded by the family's inability to be by Dan's side as his battle with COVID-19 drew to a close. But there was also a silver lining, said Jim, president and CEO of the Better Business Bureau's (BBB) regional office in Omaha.
Several weeks after Dan's death in August, Jim sent a note to the BBB board of directors sharing details of the compassion his family experienced.
"Our hearts were broken when we lost Dan, but our spirits were enriched, inspired and lifted up by the goodness and unselfishness we witnessed in the people that loved a stranger as if he were one of their own," he wrote.
Jim said the care Dan received from the hospital staff was "beyond extraordinary," but one nurse stood out: Amanda Harvey, BSN, RN, who often facilitated the video calls.
"It was so obvious that she cared deeply for Dan and for us," Jim said of the Nebraska Methodist College alumna. "She was just so incredibly kind, the way in which she spoke to him and the comfort that she was continually trying to provide."
Jim's message to the board set off a chain of events that culminated with Harvey being honored with The DAISY Award for her role in caring for Dan and his family when they needed it most.