Awards and Achievements
Jennie Edmundson Critical Care Nurse Yaney Lippold Honored With The DAISY Award
Published: March 4, 2021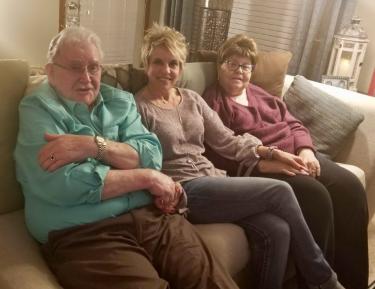 On Aug. 16, Shelly Lautenbaugh's mother, Sandra Doiel, went into cardiac arrest at the independent living facility where she and Shelly's dad, Walt, lived. She was rushed to the Emergency Department at Methodist Jennie Edmundson Hospital.
Shelly, who happens to be a nurse, was notified right away. She headed to Jennie Edmundson knowing the prognosis likely wasn't good. 
Sandra was soon transferred to the intensive care unit (ICU). And Shelly was impressed by the advanced medical care her mother continued receiving. Even more impressive, she said, was the respectful demeanor of critical care nurse Yaney Lippold, BSN, RN.
Lippold did everything she could to keep her patient's family informed and comfortable – especially Walt, whom Shelly lovingly describes as "old and cranky." 
Lippold knew just how to handle him.
"When he told me he doesn't like many people, I thought, 'Well, grumpy men tend to love me, so we'll see how this goes,'" Lippold jested. "We laughed together a lot. But I specifically remember this softness about him when he told me at one point, 'Is it hard to take your angel wings off when you go to bed each night?' That got me. That brought me to tears. Nobody's ever said something like that to me. And it made me realize that my decision to become a nurse was the right move."
As soon as Sandra began receiving end-of-life care, Lippold invited family members to say their final goodbyes at her bedside. 
"She prepared us for what was going to happen next," Shelly said. "She continued to ask questions about her. And she laughed with us as we answered them with stories. She encouraged us not to let this one moment in time be how we remember her. She encouraged us to think of the good stuff."
After processing the loss of her mother, Shelly began thinking of ways she could thank Lippold. Shelly knew about The DAISY Award, and she thought Lippold was the perfect fit. 
"She's exactly what the award is about – nurses who go above and beyond," Shelly said. "And she truly went the extra mile every time she was with us."
Humbled by the award, Lippold said it was all part of her job – treating others how she'd want to be treated in a difficult situation.
Shelly calls it the perfect example of "relationship-based care."
"She went out of her way to get to know each of us so she could provide appropriate care," Shelly said. "It was loving, tender, compassionate care. And we couldn't have asked for more."