COVID-19
This Week's Reflection for Hope and Resilience
Published: Feb. 17, 2021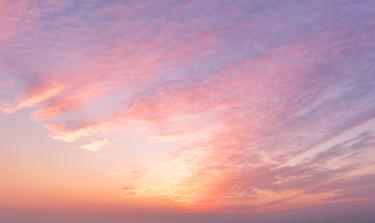 This is part of a series of weekly messages of hope and resilience that will be made available through Employee Connections and printed copies for those who do not have easy access to computers. Read last week's reflection here.

In the Christian tradition, today is Ash Wednesday, the beginning of the season of Lent (the 40 days before Easter). During this time, many people are encouraged to reflect on our own mortality and look for ways to practice faith in a more intentional way. After going through the last year and experiencing all we have in health care and our world, regardless of our religious faith, thinking about our mortality isn't a hard task. It seems that everywhere we look or listen in the last months, we have been reminded that from dust we come and to dust we shall return. 
With being reminded of our mortality so often, how has this changed you? What does it stir within you to know that we only have a finite time here on Earth? Who do you want to be while you're here? What do you want to accomplish? What legacy do you want to leave behind? While it may seem strange to take time to think about our own mortality, it gives us an opportunity to asses our own path and choices, and to make changes if we wish. 
For many Christians, this is also a time of giving something up as a sacrifice. For some, this means no meat on Fridays. For others, it is refraining from chocolate or wine. For many, however, there is a practice of adding something to enrich one's faith and connection to the holy. What would it look like if we added a random act of kindness every day? Or added a practice of sharing gratitude with people who we appreciate so much. Maybe, more important than the act itself is the attention given to what happens within ourselves when we focus on the important things in life: love, care of others, care of ourselves, our faith, etc. 
Regardless of faith tradition, there are blessings that come from reflecting on our mortality and who we want to be, as well as the choices we make to be the person we want to be. May you feel the Divine with you as you grow and reflect this season.
- Chaplain Melissa Strong, Methodist Hospital
***
We know these are difficult times. If you would like to speak with a chaplain for support, please feel free to reach out.
Methodist Hospital and Methodist Women's Hospital: Call Operator "0" and ask for the chaplain to be paged.
Methodist Fremont Health: Call Scott Jensen at (402) 290-1408.