COVID-19
COVID-19 Vaccination Update: Final Employee Vaccine Clinic Scheduled for Feb. 15
Published: Feb. 10, 2021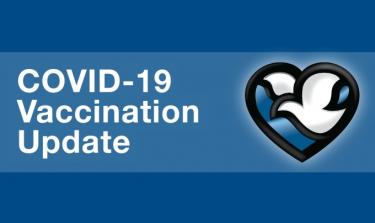 A huge thank you to all of the staff who have been working the employee vaccine clinics throughout the health system! To date we have given over 10,000 doses. So many of you have stepped up to help in a variety of roles since we began our CPODs in December. Thank you to everyone who has worked to make this important effort possible.
Methodist Health System will be using its remaining first-dose vaccine inventory on hand with a vaccine clinic for all employees and students on Monday, Feb. 15, at the medical office building on the Methodist Women's Hospital campus (192nd and Dodge). If you haven't yet received the vaccine, please consider scheduling an appointment.
This invitation is for all affiliates of the health system at all work locations. Employees needing a vaccine after this date will need to register with their respective county health departments. 
The clinic will be held in the Abbott Room on the second floor of the medical office building from 3 to 5:45 p.m. Participants will be receiving the Pfizer vaccine, with the second dose being administered on Monday, March 8 at the same time and location. You may secure a spot at the Feb. 15 clinic by following this link: https://www.signupgenius.com/go/mwhcovid.
Staff who will have started work prior to Feb. 15 are eligible to register. The vaccination process for those who start after Feb. 15 will depend on the state's allocation of the drug supply. More information will be shared with management as it's available.
If you would like to help staff the vaccine clinic, you may sign up here: https://www.signupgenius.com/go/vaccinestaffing.
If you were vaccinated elsewhere or wish to decline the vaccine, please take action on one of the options below if you have not already done so: 
1. Provide proof of your vaccination elsewhere. 
Scan and email a copy of your vaccination card to @email.
Employee Health will document both doses. You can choose to wait and send a copy of your card after your second dose, or send a copy of your first dose and then your second dose once you've received it.
2. Complete a declination form if you do not plan to be vaccinated. This can be revoked if and when you are vaccinated at a later date.
Share Your Experience
We all have different reasons for getting the COVID-19 vaccine. We're asking Methodist employees to share their experiences on social media, tagging Methodist and using the hashtags #ourbestshot and #whatsyourwhy.
Find Methodist on Facebook, Instagram and Twitter.
More Employee Resources