COVID-19
COVID-19 Vaccination Update: Over 8,000 Doses Administered; Travel Guidance Updated
Published: Feb. 3, 2021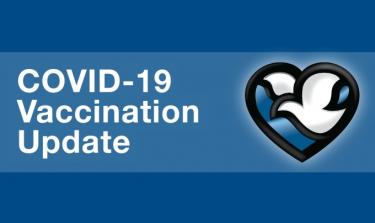 Thank you!
To all health system employees who have participated in the vaccination effort, thank you for protecting yourself and, more importantly, our patients.
To date, we have administered over 8,000 cumulative first and second doses of the COVID-19 vaccine. It has been a tremendous effort on the part of so many throughout the organization.
As our internal effort is winding down, we acknowledge that many of you still want to obtain either your first or second dose of the vaccine. 
A FINAL first-dose vaccine clinic is being offered on Feb.15 from 3 to 5:45 p.m. at the Medical Office Building on the Women's Hospital campus. We will be administering the Pfizer vaccine.
You can register for that Feb. 15 clinic here: https://www.signupgenius.com/go/mwhcovid. 
If you would like to help with staffing the vaccine clinic, you may sign up here: https://www.signupgenius.com/go/vaccinestaffing
Employees needing a vaccine after this date will need to register for a vaccine clinic in their respective community.  
Declination Form, Proof of Vaccination
As a reminder, if you were vaccinated elsewhere or wish to decline the vaccine (thereby removing yourself from the email list when additional vaccine is available), please see the options below.
Provide proof of your vaccination elsewhere. 

Scan and email a copy of your vaccination card back to this email address: @email
We will document both doses. You can choose to wait and send a copy of your card after your second dose, or send a copy of your first dose and then your second dose once you've received it. 

Complete a declination form if you do not plan to be vaccinated in the near future. This can be revoked if and when you opt in for vaccination. 
COVID-19 Vaccination Card
The white card with your vaccination dates and vaccine information should be kept on you for the foreseeable future. It may be necessary to present when traveling or when transitioning between work opportunities. You could also take a photo of the card and produce that image when requested.
Updated Travel Information
The Centers for Disease Control and Prevention (CDC) has recently updated its travel guidelines in conjunction with the administration of the vaccine. Here are some highlights – but you can view all the information here.
Masks are required on planes, buses, trains and other forms of public transportation while traveling into, within or out of the United States. Masks are also required in U.S. transportation hubs such as airports and stations.
If you are eligible, get fully vaccinated for COVID-19. Wait two weeks after getting your second vaccine dose to travel – it takes time for your body to build protection after any vaccination.
All air passengers coming to the United States, including U.S. citizens, are required to have a negative COVID-19 test result or documentation of recovery from COVID-19 before boarding a flight to the United States. Click here for more information about this requirement. 
For those traveling internationally you must get a viral test 1-3 days prior to travel. You should carry your test results with you. DO NOT travel if you test positive.
Get tested three to five days after travel AND stay home and self-quarantine for seven days after travel. 

Even if you test negative, stay home and self-quarantine for the full seven days.
If you don't get tested, it's safest to stay home for 10 days after travel.

Always follow state and local recommendations or requirements related to travel
Methodist employees who have travelled in the last two weeks may immediately return to work as long as they are not having symptoms of illness. Staff must follow established hand washing, masking, protective eye wear , self-monitoring of symptoms, and social distancing guidelines.
If you develop symptoms:
Call your department that you are sick and will not be able to come to work
Call employee health at (402) 354-5684 for further direction
Continue to wear a mask at home until you are cleared to return to work
Share Your Experience
We all have different reasons for getting the COVID-19 vaccine. We're asking Methodist employees to share their experiences on social media, tagging Methodist and using the hashtags #ourbestshot and #whatsyourwhy.
Find Methodist on Facebook, Instagram and Twitter.
More Employee Resources