COVID-19
COVID-19 Vaccination Update: Invites Out to All Employees; Be Sure to Check Your Email
Published: Jan. 13, 2021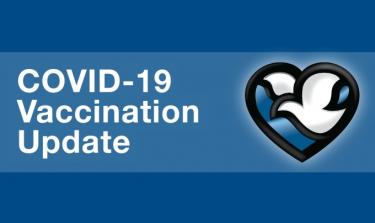 The vaccine work group is excited to share that invitations to receive the COVID-19 vaccine have been distributed to all Methodist Health System employees. 
With most of our critical frontline workers now having received a second dose, advancing through the rest of the health system is well underway. To date, we have vaccinated over 6,000 individuals within the organization.
As we move through the process, we anticipate that employees who decline the vaccine will be asked to complete a declination form for our required documentation. For those who have received the vaccine elsewhere, we will require that documentation be sent to Employee Health.
As an ongoing reminder, invitations for employees eligible for their first vaccine dose are being sent to your work email. This email will include next steps on how to proceed with the vaccination process or how to decline the vaccine. Please check your email regularly. If you have issues accessing your work email from home, please contact the IT service desk at (402) 354-2280.
Because doses are prepared based on the number of vaccines we anticipate distributing each day, it's important that you contact vaccine scheduling or change/cancel your appointment in SignUp Genius as soon as possible if you are unable to make your scheduled time. 
Second-dose distribution is continuing this week. If you are coming for your second dose, please be sure to bring your vaccination card.
To keep our vaccination efforts moving forward, there's a need for staffing in our Closed Point of Distribution (CPOD) locations. Positions include registration, discharge, Cerner documenter and vaccine administrator. We need all hands on deck in the coming weeks to successfully complete our vaccination process. Please consider helping if you can. The sign-up for CPOD shifts can be found here.
 
Frequently Asked Questions
I've received the second dose. Am I now able to go to a restaurant or visit those at higher risk for COVID-19?
It is currently unknown if you can asymptomatically spread the virus after being vaccinated, as research is still pending. Thus, it is recommended that everyone, including persons who have received both doses of vaccine, should continue to follow recommendations from the Centers for Disease Control and Prevention (CDC) and local health department guidance on wearing masks, washing hands and social distancing. The duration of protection for the COVID-19 vaccines is still unknown. 
I remain undecided about getting the vaccine. Is there a deadline for this decision?
We are encouraging employees to act on the invitation they have received and schedule their vaccine now to take advantage of our current supply. We do believe there will be supply moving forward, but the volume and timing of receiving the vaccine can be unpredictable.
Do I need to clock out to receive my vaccine?
Employees should consult with their supervisor regarding this issue.
Are both vaccines effective against the new variant being reported? I've heard that Pfizer is not, but Moderna is.
The Infection Prevention team has reviewed information published to date and has found that both Moderna and Pfizer have reported that current data supports that both vaccines are effective against the new variants of COVID-19. Much of the information still needs to be peer reviewed but aligns with many scientists' expectations that the immune response triggered by vaccines will be broad enough to cover the new highly contagious variants. 
Share Your Experience
We all have different reasons for getting the COVID-19 vaccine. We're asking Methodist employees to share their experiences on social media, tagging Methodist and using the hashtags #ourbestshot and #whatsyourwhy.
Find Methodist on Facebook, Instagram and Twitter.
More Employee Resources