COVID-19
#WhatsYourWhy? See Why Others Are Getting the COVID-19 Vaccine and Share Your Experience
Published: Jan. 12, 2021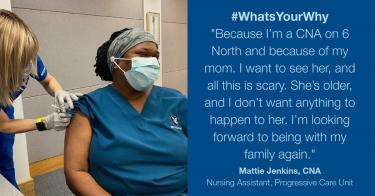 With the rollout of COVID-19 vaccines, Methodist Health System has a new tool in the fight against the pandemic.
We all have different reasons for getting the COVID-19 vaccine. Below, Methodist employees share why they opted to receive the vaccine.
#WhatsYourWhy? Share Your Experience
We're asking Methodist employees to share their experiences on social media, tagging Methodist and using the hashtags #ourbestshot and #whatsyourwhy.
Find Methodist on Facebook, Instagram and Twitter.
More Employee Resources