COVID-19
COVID-19 Vaccination Update: Second Vaccines Underway, Scheduling Ramping Up
Published: Jan. 6, 2021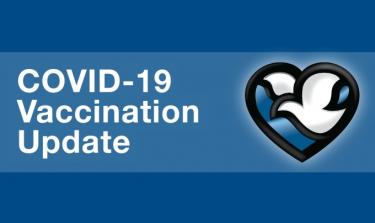 Round two of the COVID-19 vaccination process is underway, with individuals receiving their second dose of the Pfizer vaccine earlier this week. Second-dose distribution will continue this week, as well as further distribution of first doses to employees. For all of those staff coming for their second dose, please be sure to bring your vaccination card.
To date, we have vaccinated well over 3,500 individuals within the health system. Methodist Jennie Edmundson Hospital will be wrapping up invitations to all first-round recipients this week, as will Methodist Fremont Health.
Invitations for employees eligible for their first vaccine dose are being sent to your work email. This email will include next steps on how to proceed with the vaccination process or how to decline the vaccine. Please check your email regularly. If you have issues accessing your work email from home, please contact the IT service desk at (402) 354-2280.
You will be assigned a location to receive the vaccine, and you must adhere to that location to help the vaccination team maintain an organized and orderly flow to the process. 
We have had a number of employees respond who are undecided about receiving the vaccine. While respecting that decision, please note that vaccine availability as we continue through the process may vary and access to vaccination through Methodist may not be possible. If you've received the invitation and are interested in getting the vaccine, we advise you to not delay signing up at this point. We also recommend you sign up quickly so that we can continue toward our goal of vaccinating every health system employee who is interested. 
To keep our vaccination efforts moving forward, there is a need for staffing in our Closed Point of Distribution (CPOD) locations. Positions include registration, discharge, Cerner documenter and vaccine administrator. We need all hands on deck in the coming weeks to successfully complete our vaccination process. Please consider helping if you can. The sign-up for CPOD shifts can be found here.
Frequently Asked Questions
I've recently had COVID-19. Do I still have to wait 90 days before receiving the vaccine?
Current evidence suggests that reinfection with the virus that causes COVID-19 is uncommon in the 90 days after initial infection. Therefore, people with a recent infection MAY delay vaccination until the end of the 90-day period, if desired.
Employees who previously had a hold on their eligibility, due to the 90-day window, will be extended an invitation for vaccination in the near future.
It should be noted that anyone currently infected with COVID-19 should wait to get vaccinated until after their illness has resolved and after they have met the criteria to discontinue isolation. 
Are the symptoms experienced different with the second vaccine?
Symptoms associated with the Pfizer vaccine include pain, swelling and redness in the arm you got the shot. You may also experience tiredness, headache, fever/chills and muscle/joint pain. These are typical side effects with vaccines but may be more noticeable with the second vaccine. If you do experience any side effects, please contact Employee Health or the vaccine hotline at (402) 815-VACC (8222).
Share Your Experience
We all have different reasons for getting the COVID-19 vaccine. We're asking Methodist employees to share their experiences on social media, tagging Methodist and using the hashtags #ourbestshot and #whatsyourwhy.
Find Methodist on Facebook, Instagram and Twitter.
More Employee Resources