COVID-19
COVID-19 Vaccination Update: Over 2,500 Receive Vaccine; Watch for Your Invitation
Published: Dec. 30, 2020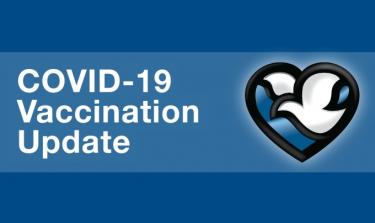 The COVID-19 vaccine work group is happy to report that over 2,500 health care workers within the Methodist Health System family received the Pfizer-BioNTech and/or the Moderna COVID-19 vaccines since distribution began on Dec. 16. 
Of the more than 2,500 vaccinated, very few reported side effects. Individuals receiving the vaccine should anticipate mild symptoms – which are consistent with other vaccines – that last around 24 to 48 hours. These symptoms are normal and signify an appropriate immune system response – signs that your body is building immunity.
As a reminder, if you are in line to receive the vaccine based on the tiered system established by the state of Nebraska and the Centers for Disease Control and Prevention (CDC), you will be notified via your work email. This email will include next steps on how to proceed with the vaccination process or how to decline the vaccine. We encourage you to check your email regularly. If you have issues accessing your work email from home, please contact the IT Operations Center at (402) 354-2280, and someone can walk you through the process. If you can't access your Methodist email account at home, your supervisor can send you the link at a personal email address.
If you are on PTO when the invitation is received, you will be given another opportunity to be included. We also understand that people change their minds. If you're unsure, that option is available as part of the email invitation process.
Scheduling and advancement through the tiered process depends largely on the vaccine doses on hand. If you've received an invitation, you're encouraged to move forward with the vaccination process to ensure that all the appointments are filled and doses available are utilized. When additional vaccines are received, new invitations will be distributed.
We realize everyone is anxious about this process. Please know that the work group is being diligent about following the guidelines established by the state and CDC regarding those eligible to receive the vaccine. 
Be assured the health system fully intends to vaccinate all of its employees in due time.
As we move through the vaccine distribution process, additional questions have arisen. Please take a look at the updated COVID-19 vaccine FAQ document, which you can also find on the COVID-19 page on the intranet.
Share Your Experience
We all have different reasons for getting the COVID-19 vaccine. We're asking Methodist employees to share their experiences on social media, tagging Methodist and using the hashtags #ourbestshot and #whatsyourwhy.
Find Methodist on Facebook, Instagram and Twitter.
More Employee Resources