Leadership Updates
Now, More Than Ever, We Must Embody The Meaning of Care
Published: June 9, 2020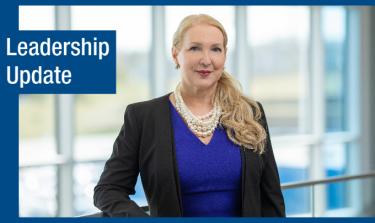 In my six years with Methodist Health System, I have been fortunate to engage with employees from all affiliates and from departments small and large – with those who've lived in Omaha, Fremont or Council Bluffs their entire lives and those who've relocated to our wonderful communities for work or other reasons.
You've heard it before, but we have a truly stellar group of employees and care providers in our organization. I'm proud to work alongside each of you every day.
What makes our organization stand out from others is our commitment to CARE. Caring for our patients, employees, students and the communities at large. Over the past three months, we've been challenged as health care workers and as human beings to step up, reflect and do what's right.
I'm proud of the grace that our employees have displayed during this time, and I ask that you continue to lead your lives committed to our mission of caring for our communities by showing respect to people who are both like and unlike ourselves, be they coworkers, patients or visitors.
Consider the similarities and differences that exist between each of us: race, gender, class, native language, ethnic origin, physical ability, age, religion, sexual orientation, professional experience, personal preferences and work style. We value this diversity in our workforce and will continue to explore ways in which Methodist can further our efforts in the areas of diversity and inclusion throughout our organization.
Cultural competence is something that we strive for, but acknowledge that it is, and will continue to be, a work in progress. Society and the issues we face are always evolving and we must do the same.
We have been through a lot already this year, but there's work to be done. In addition to asking that you recommit to caring for our communities (at work, in your personal lives and online), I'm asking that you do so with open minds and open hearts. My hope is that through these crises, we come out on the other side having a better understanding of and appreciation for one another.
Now, perhaps more than ever, it's vital that we embody The Meaning of Care.