Leadership Updates
Thank You for Fulfilling Our Mission Statement in 2019
Published: Dec. 19, 2019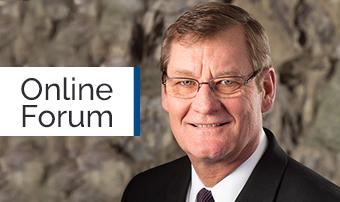 In 2018, we introduced a new mission statement for our organization – one we felt truly spoke to who we are and what we do for our patients, our community and each other. Every word in the statement was chosen with purpose: Improving the health of our communities by the way we care, educate and innovate.
We wanted our employees to know it and embrace it. We wanted it to be the standard within our organization. But we never imagined it would catch on so quickly.
It's in the outstanding care you provide our patients. It's how you educate staff, students and members of our communities. It exists within the innovative ideas we foster, the technologies we adopt and the clinical trials we offer.
As we reflect on 2019 and look ahead to 2020, let's review just how effectively we held true to our mission and how we'll build on our momentum next year.
How we care
We had outstanding growth this past year across all of our affiliates. Patient volumes at our four hospitals have been strong, and the patient numbers throughout Methodist Physicians Clinic (MPC) grew exponentially. Part of that growth was due to Methodist Fremont Health and the transition of established medical practices. We welcomed multiple area specialty groups and more than 50 physicians to the Methodist family which also played key roles in patient volumes.
I thank all of you who are members of our care teams. Your unwavering commitment to patient care amid such growth has not gone unnoticed. It's because of your dedication and loyalty that patients continue choosing Methodist.
We anticipate steady numbers – 1% to 2% growth – as we look at 2020. The medical office building in Council Bluffs opens in June, which will allow us to serve more patients and recruit more physicians. Methodist Jennie Edmundson Hospital will open its fifth floor, which is being renovated to offer a new birth experience for families in western Iowa. A new clinic location at 194th & Maple will debut in August, further expanding our primary care footprint in the Omaha area, and work will begin on our $25 million expansion and renovation of the Methodist Hospital emergency department.
Serving more patients:
Surgeries performed: Over 45,000
ED visits: Nearly 70,000
MPC patient visits: Over 700,000
Hospital patient volumes: Over 70,000 discharges
How we educate
Nebraska Methodist College (NMC) is continuing to act as an educational leader in the health care field. Enrollment numbers and course offerings for traditional and nontraditional students continue to grow. NMC is producing quality health care providers in a variety of career fields, and many graduates continue their health care careers in our hospitals and clinics. They are teaching The Meaning of Care by example, and we're reaping the benefits of that instructional excellence.
We're also sharing our expertise with communities through our partnerships and outreach, addressing the social determinants of health identified by our community needs assessment. By meeting those in need right where they are with our mobile medical units, we're making valuable screenings more accessible and educating patients on lifestyle changes to improve their health.
By the numbers:
NMC fall 2019 enrollment: 1,127
Community health screenings: Over 3,000
Programs, services, health screenings and health professions mentoring and shadowing: $53 million 
How we innovate
Innovation takes on a number of meanings at Methodist.
In 2019, MPC initiated new ways to interact with our chronic disease patients to keep them healthy and launched an all-day urgent care location.
We're offering new cardiac procedures and continue to expand our clinical trial offerings. At Methodist Jennie Edmundson Hospital, we expanded our surgical offerings by implementing robotic surgery.
Telehealth is another emerging platform for patient care. It extends our reach and offers our expertise to patients in western Nebraska and western Iowa. I see telehealth growing as patients and physicians embrace the technology as a way of providing care.
As a system, we are focused on getting Methodist Fremont Health on our Cerner platform by May, which will be a major milestone in our integration efforts.
I hope you'll agree: Much was accomplished in 2019, and we're on solid ground as we head into 2020. Challenges continue to exist in health care, and we'll navigate them by maintaining a strong financial base. Thank you again for another tremendous year. We acknowledge all the hard work by our employees that made such success possible. You are our mission. You are The Meaning of Care.
---
We welcome your feedback. To comment on this Online Forum, send an email to @email or use the Employee Connections "Submit a News Idea" online form.
Your Forum Feedback messages are forwarded to the appropriate administrator with your name for a direct response unless you ask to remain anonymous. A sampling of Forum Feedback questions or comments of broad impact to employees may appear in future Online Forums.