Awards and Achievements
Cortney Pasek Is May DAISY Award Winner
Published: May 31, 2018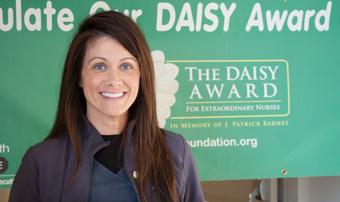 Cortney Pasek, BSN, RN, from Methodist Hospital ICU, was honored at a recognition ceremony on May 31 as the May DAISY Award winner for Methodist Hospital and Methodist Women's Hospital.
Cortney was nominated for her award by the family of a recent patient who went through a scary situation - a diagnosis of a very large brain tumor. The patient spent six nights at Methodist Hospital, four in the ICU.
The sister of the patient wrote to Methodist saying that all the hospital's nurses were great, but Courtney stood out as being exceptional. 
"She was an angel sent from above for my sister and our family," wrote the patient's sister. "Cortney is skilled, knowledgeable, kind and caring. Our number one concern was my sister, and Cortney took exceptional care of her - both physically and emotionally. She also went out of her way to assist and support our family and did anything she could to help us get through this ordeal."
The sister went on to write about how during a restless night before surgery, Cortney took the time to ease the patient's fears, talking with her and answering her many questions.
"Cortney was so soothing and calm, she really gave my sister some peace of mind. She also recognized my sister's sense of humor and feistiness and gave it right back to her which kept things light."
And the sister says that same care and attention extended to the entire family - listening, answering questions and making them comfortable when they stayed the night. Time and again Cortney went "over and above."
"My sister is home and doing great, but I didn't want to let the opportunity pass to give Cortney the praise and recognition she deserves," wrote the patient's sister. "Methodist is very lucky to have such a great employee, and more importantly the patients and their families are lucky to have such a skilled nurse and wonderful person to help them through some very stressful and trying health crises."
---
The DAISY Award is a nationwide program that rewards and celebrates extraordinary skill and compassionate care given by nurses every day. Nurses can be nominated by anyone, including patients, family members, physicians, supervisors or their peers.
To nominate a nurse at Methodist Hospital or Methodist Women's Hospital, visit www.bestcare.org/daisy.