Awards and Achievements
Congratulations to MHS Nurse Residency Program Cohort #22
Published: May 25, 2018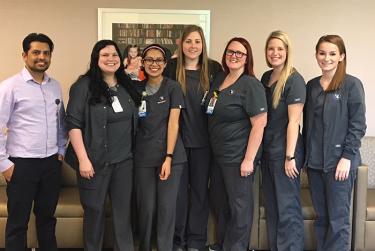 Congratulations to the nurses of Cohort #22 that graduated from the Nurse Residency Program on May 24, 2018!
The program assists new graduates with transitioning into their professional role. Graduates completed 12 months of learning focused on critical thinking, patient safety, leadership and communication skills, evidence based practice and professional development.
Nurse Residents from left: Bhishma Bhurtel, Brittany Westberg, Ingrid Medina, Meghan Schulz, Stephanie Beutel, Kayla Munter and Kasey Shriver.
Cohort #22
Bhishma Bhurtel ~ MH Ortho Neuro 
Brittany Westberg ~ MH Cardiac 
Ingrid Medina ~ MH Med Surg
Meghan Schulz ~ WH Mother Baby
Stephanie Beutel ~ WH Mother Baby
Kayla Munter ~ MH Rehab
Kasey Shriver ~ MH Emergency