HR and Benefits
Dress Code/Uniforms Policy Updates
Published: Jan. 26, 2017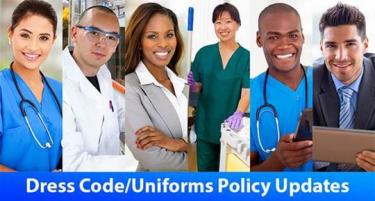 Make sure your professional statement is working for you.
We're proud of our MHS staff! Through your service excellence and professional appearance, you communicate our culture of caring and safety in every patient/customer interaction.
We recognize the dress code policy needs updates periodically, and hope that these updates strike a good balance between maintaining our professional image and fashion trends. Regardless of fashion trends, the image you bring to work is your professional statement. Make sure your professional statement is working for you!
To provide consistency in promoting our professional image and elements of safety, we've updated our Dress Code/Uniforms related to piercings, tattoos, hosiery, fleece and sleeves with thumb holes.
Dress Code/Uniforms Policy Updates
We have relaxed the policy on visible body piercings but maintain a standard of piercings to be minimal, professional and meet the infection prevention guidelines.
We've also changed the provisions related to visible tattoos and body designs, allowing them if they are professional and appropriate for the customers we serve. What is professional and appropriate can be facts and circumstances, but, in general, is defined as not offensive, disparaging to certain populations or threatening/frightening. Staff and supervisors are welcome to consult with Human Resources for consistency.

Hosiery/socks are encouraged but not required for all areas. Hosiery/stockings are strongly encouraged in high customer areas where first impressions and image are important to our reputation. Be aware of your department's guidelines as they may relate to regulatory requirements. 
For staff at Methodist Hospital, Methodist Women's Hospital and Methodist Jennie Edmundson who purchase uniforms through the MHS Safety &  Style Initiative:
Infection Prevention is critical for the safety of our patients. Due to concerns of infection control:
Fleece jackets are not considered an appropriate outer jacket uniform in clinical/patient care areas.

Although shirts with thumb holes may be worn under the uniform, the thumb holes may not be utilized, as they prevent proper hand hygiene.
Thank you for having pride in your professional image and the Methodist reputation to look your very best every day! 
For more information on guidelines for uniforms, see the Dress Code/Uniforms policy on mhsintranet.