Awards and Achievements
Sarah Bell Is January DAISY Award Winner
Published: Jan. 24, 2017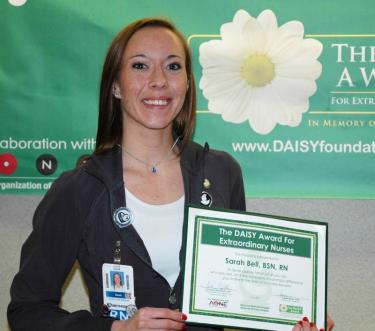 Sarah Bell, BSN, RN, from the Progressive Care unit at Methodist Hospital, was honored at a recognition ceremony on January 24 as the January DAISY Award winner for Methodist Hospital and Methodist Women's Hospital.
Sarah was nominated for the honor by an oncology patient who underwent a major surgery. Given the nature of the cancer and its treatment, the patient worried about her life, health and livelihood, describing herself as "anxiety-ridden" over what her future might hold and "scared of all the possible things that could go wrong."
"Upon waking up from anesthesia," the patient wrote, " I was greeted by my nurses with understanding and patience. They had solutions for my problems, and encouragement for my fears. They also addressed all my concerns, and if they didn't know the answer, they were sure to call my doctor to make sure. Everyone was excellent. Everyone made me feel like I was the most important person they were caring for. And every day I will thank God that I made it through this scary time in my life with the help of the wonderful nurses of 6 North at Methodist Hospital."
The patient gave extra recognition, a Daisy Award nomination, to nurse Sarah Bell, who made all the difference with her expertise and caring throughout a drop in the patient's calcium levels. 
"It was undoubtedly one of the scariest times in my life. I was sure I was having a stroke or heart attack," the patient wrote. "I really thought something very serious was happening. And it was, but Sarah very calmly held my hand and put a heart monitor on me, consistently telling me and reassuring me that my heart was beating fast, but it was just fine."
Sarah made calls to rush the necessary IV medication, and the patient noted, "as if this wasn't enough, she also skipped her lunch to sit with me because my family was not there. I know in the medical profession many of the things I mentioned may not seem very scary, but to me, I was terrified. I was afraid I was dying. I am sure another nurse could have helped me, but I was so lucky to have Sarah there. She got me through. The compassion she showed for me was extraordinary. She went above and beyond to help me."
---
The DAISY Award is a nationwide program that rewards and celebrates extraordinary skill and compassionate care given by nurses every day. Nurses can be nominated by anyone, including patients, family members, physicians, supervisors or their peers.
To nominate a nurse at Methodist Hospital or Methodist Women's Hospital, visit www.bestcare.org/daisy.