Leadership Updates
Succession Plan for a Smooth Leadership Transition
Published: Dec. 28, 2016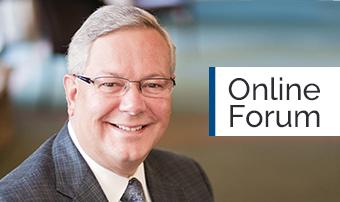 My Retirement as MHS President & CEO Is One Year Away
The approach of a new year is the perfect time to look ahead to the future, so I would like to update all members of the Methodist family on the succession plan underway to ensure a smooth transition of leadership for the next President and CEO of Methodist Health System.
I have been thinking about the next stage in life, both personally and professionally, for some time. My wife, Debbie, and I have had the great privilege of being a part of the Methodist family for the past 25 years. It is such an honor to be associated with Methodist Health System, an organization whose people truly live The Meaning of Care.
An essential part of my role is to pave the way for my successor. For the past two years, I have been working with our Board of Directors to ensure a smooth transition of leadership for the organization.
The initial step in this process, which occurred this past year, was the well-deserved promotion of Methodist Hospital President and CEO Steve Goeser to his additional role as Methodist Health System Vice President of Clinical Services. At that time, Steve assumed responsibility for our three hospital campuses, Methodist Physicians Clinic, Nebraska Methodist College and Shared Service Systems.
I am pleased to announce that Steve's role will further expand on January 1, 2017, when he becomes Methodist Health System Executive Vice President and Chief Operating Officer. In this capacity, Steve will retain all of his current responsibilities and add the supervision of our MHS Corporate Office departments, including:
Compliance
Finance and Business Services
Human Resources
Information Technology
Integrated Services
Marketing
Performance Improvement
Strategic Planning
Methodist Hospital Foundation will continue to report directly to me.
I know that you will join me in congratulating Steve on this significant advancement of his administrative responsibilities within the organization, and you will continue to give him your support as we work together to prepare our leadership team for the years to come.
This succession plan, which has the full approval of our Board, follows the transition pattern established with the founding of Methodist Health System in 1982. I and my predecessors served in dual Methodist Hospital and Health System leadership roles prior to selection by the Board as MHS President and CEO. This is a very natural process that combines mentorship with higher level hands-on leadership at the Health System level, a process proven to serve the organization well.
I want to be clear that I will remain at the helm as MHS President and CEO for the next year. I will keep my same Corporate office in the 8511 Building. Soon, Steve will have an office here at Corporate in addition to his office at Methodist Hospital, and he will divide his time between the two locations.
A year from now, I will be ready to focus exclusively on family, friends, travel plans and the other joys of retirement. I will retire from my position as President and CEO of Methodist Health System on December 31, 2017.
In the meantime, we have work to do. Methodist will continue moving forward with the same strategic vision, the same culture of caring, the same commitment to our 125-year tradition of excellence.
This is business as usual, and I thank you for your continued support and for all you do to live The Meaning of Care.
---
We welcome your feedback. To comment on this Online Forum, send an e-mail to @email or use Employee Connection's "Submit a News Idea" online form.
Your Forum Feedback messages are forwarded to the appropriate administrator with your name for a direct response, unless you ask to remain anonymous. A sampling of Forum Feedback questions or comments of broad impact to employees may appear in future Online Forums.