Awards and Achievements
Jillian Ryan-Vanecek Is December DAISY Award Winner
Published: Dec. 19, 2016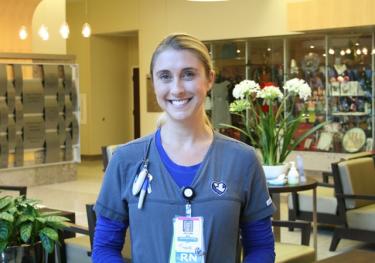 Jillian Ryan-Vanecek, BSN, RN, from the Neonatal Intensive Care Unit at Methodist Women's Hospital, was honored at a recognition ceremony on December 19 as the December DAISY Award winner for Methodist Hospital and Methodist Women's Hospital.
Jillian was nominated for the honor by the father of newborn twins who spent the first several weeks of their lives in the NICU. He wrote that while he and his wife felt they had many great nurses, "Jillian took the cake. Her caring nature was something that made her such a natural in her role as a NICU nurse."
He described Jillian's impact in this way: "You can tell there is something special about her after about 30 seconds into a conversation: her warm smile and laugh, positive and upbeat attitude, and, most importantly, her level of nurturing care. Her knowledge was something we leaned on heavily, and the feeling our babies were in safe hands was an immense load off of our shoulders."
"You truly have a phenomenal employee in Jillian," the father wrote. "She often stayed past her shift for a few minutes just to wrap up conversation and ensure the next nurse was fully up to speed with our babies' situations. She gave us the warm fuzzy we needed to get through the tough weeks of having our twins in the NICU, and I can't thank her enough."
---
The DAISY Award is a nationwide program that rewards and celebrates extraordinary skill and compassionate care given by nurses every day. Nurses can be nominated by anyone, including patients, family members, physicians, supervisors or their peers.
To nominate a nurse at Methodist Hospital or Methodist Women's Hospital, visit www.bestcare.org/daisy.