Awards and Achievements
Nicole Johnson Is November DAISY Award Winner
Published: Nov. 18, 2016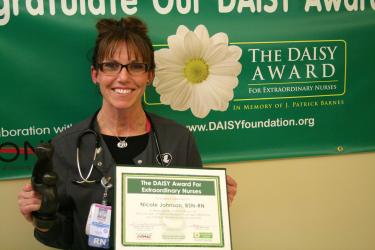 Nicole Johnson, BSN, RN, from the Mother/Baby Unit at Methodist Women's Hospital, was honored at a recognition ceremony on November 18 as the November DAISY Award winner for Methodist Hospital and Methodist Women's Hospital.
Nicole was nominated for the honor by a patient's mother, an RN who has devoted nearly half a century to nursing. The mother described Nicole as "an awesome, caring, compassionate nurse," praising the way Nicole introduced herself and "then took care of all of my daughter's needs." The mother noted how Nicole immediately brought warm blankets and fresh water and addressed pain issues, listening carefully and finding ways to make her daughter more comfortable, including the application of hot packs to the middle of the back.
The mother emphasized that Nicole cared for both patient and family, saying, "She treated me with compassion and kindness, answering all my questions."
"She took care of my daughter like she didn't have any other patients," the mother wrote. "I know what good nursing care is and was truly blessed to have Nicole as my daughter's nurse."
---
The DAISY Award is a nationwide program that rewards and celebrates extraordinary skill and compassionate care given by nurses every day. Nurses can be nominated by anyone, including patients, family members, physicians, supervisors or their peers.
To nominate a nurse at Methodist Hospital or Methodist Women's Hospital, visit www.bestcare.org/daisy.