Awards and Achievements
Methodist Hospice Holds Veterans Day Pinning Ceremony
Published: Nov. 15, 2016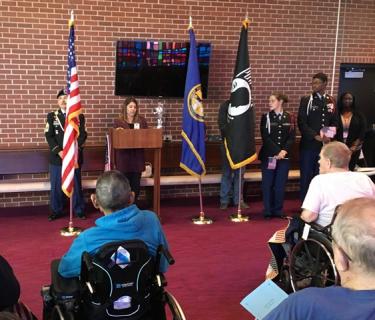 Methodist Home Health & Hospice honored the veterans who reside at Maplecrest Care Center with a special Veterans Day pinning ceremony.
Veterans were presented with Nebraska Hospice pins and quilts from the volunteers and staff of Methodist Hospice and Maplecrest Care Center. Members of the Benson High School Junior Reserve Officer Training Corps (ROTC) presented each veteran with a flag.
The Benson High School Chamber Choir performed "The Star-Spangled Banner," "The Ballad of the Green Beret" and "Taps." Speakers included Dave Kersting, Chaplain, Methodist Home Health & Hospice; 1st Sargent Falcon, JROTC Coordinator, Benson High School; and Diane Randolph, Director, Methodist Home Health & Hospice. Residents, veterans and family members enjoyed refreshments following the ceremony.
Thirteen veterans were honored at the ceremony, and two were pinned privately after the ceremony.
Methodist Hospital Home Health & Hospice is a member the Nebraska Hospice & Palliative Care Association, a Hospice-Veteran Partnership (HVP). The mission of HVP is to establish an enduring network of hospice and VA professionals, veterans, volunteers, and other interested organizations working together to provide quality services through the end of life for veterans.