Awards and Achievements
MJE's Becky Henkel a 2016 IHA Hospital Hero - See the Video
Published: Oct. 27, 2016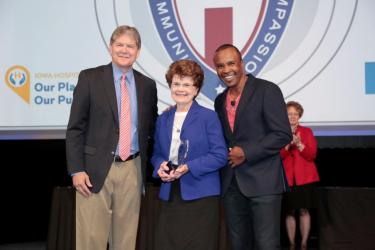 Becky Henkel, who recently retired as Methodist Jennie Edmundson's director of nursing services, was honored last week as a 2016 Iowa Hospital Association Hospital Hero. Only 10 individuals from around the state were named Hospital Heros. The special awards were presented by former boxing champion Sugar Ray Leonard at the annual IHA convention in Des Moines.
As an RN for more than 44 years, Becky dedicated her life to serving patients and developing other caregivers to do the same. She was an advocate for collaborative approaches to coordinating care and staffing across all areas of inpatient, outpatient, behavioral health and emergency services.
Becky took on many different roles throughout her time at Methodist Jennie Edmundson, providing compassionate care and clinical expertise for optimal patient care and outcomes. She was responsible for administrative coordinators, personnel, centralized staffing, nursing practice/education, community health screenings, and was the lead on patient care standards for Joint Commission Accreditation. She is a shining example of what it means to be a great nurse and true hospital hero. 
Watch Becky's Hospital Hero Video