Awards and Achievements
The Meaning of Care Magazine: Read the Fall Issue
Published: Oct. 3, 2016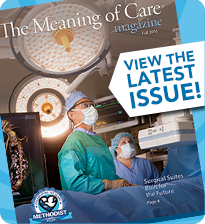 The Meaning of Care magazine tells stories of Methodist's outstanding care and medical innovation in print and video.
Included in the Fall 2016 issue:
Surgical Suites Built for the Future

Inspiration Through Volunteering:
The Rich Pollard Story

Leaving a Legacy: Insight from an Insider
The magazine, produced by the Methodist Health System Marketing Department, was just released and will soon be distributed at all MHS affiliates.
To read the Fall 2016 issue, click HERE.
The home page for The Meaning of Care Magazine is bestcare.org/tmoc. 
Watch the Videos
To see the new Methodist Hospital Surgical Suites in this short video featuring interviews with Methodist Hospital President & CEO Steve Goeser, Surgery Service Executive Jay Jadlowski, Dr. Paul Kolkman, Dr. Niyati Nadkarni and Dr. John Park  -- click HERE.
Learn why attitude is everything for Methodist Estabrook Cancer Center patient and volunteer Rich Pollard. To watch this short video featuring Rich; his wife, Linda; and Dr. David Silverberg -- click HERE.