Awards and Achievements
Dana Robicheau Is August DAISY Award Winner
Published: Sept. 1, 2016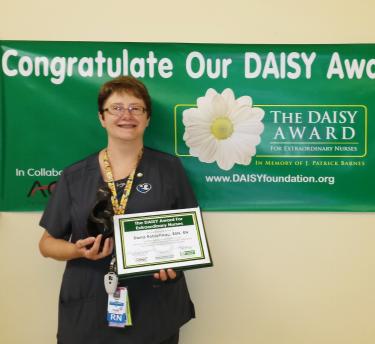 Dana Robicheau, BSN, RN, from the Neonatal Intensive Care Unit at Methodist Women's Hospital, was honored at a recognition ceremony on Friday, August 26, as the August DAISY Award winner for Methodist Hospital and Methodist Women's Hospital.
She was nominated for the honor by a new mom, who describes the fears and frustrations that can come with having a baby who needs the specialized care of a NICU.
"I was scared, angry, sad, frustrated and overwhelmed with the situation. It is difficult to share your baby with the nurses. It is hard to find balance when sharing your time with family at home and your newborn in the NICU. About two weeks in, I was an emotional wreck.
"A nurse named Dana had a calming demeanor, and when she took care of my baby, all of my frustrations melted away. At first I didn't know what it was about her that made me feel so at ease. Then I realized that Dana took a back seat and let me be a mom, and that's exactly what I needed. She made sure that I knew that my baby still needed me. Dana not only took care of my child, she took care of me emotionally as well.
"Dana is professional, compassionate, supportive and kind. Dana is extremely deserving of the Daisy Award. I say that not only as a mom of a sick baby, but as a fellow nurse as well. Dana was aware that I was a nurse, but she never treated me any differently, and I am very grateful for that."
---
The DAISY Award is a nationwide program that rewards and celebrates extraordinary skill and compassionate care given by nurses every day. Nurses can be nominated by anyone, including patients, family members, physicians, supervisors or their peers.
To nominate a nurse at Methodist Hospital or Methodist Women's Hospital, visit www.bestcare.org/daisy.