HR and Benefits
Best Care EAP Website: New Look, New Member Login
Published: Feb. 23, 2016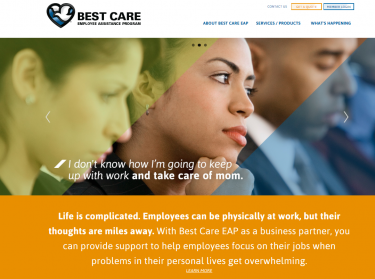 For more than 40 years, Best Care EAP has provided employee counseling, training and onsite support services.
Best Care EAP has a newly refreshed website for easier access to information and services, and design consistency with the Methodist brand.
Be sure to use the new Member Login username and password for MHS employees:
     Username: bcMEe
     Password: ME
As an employee of Methodist Health System, you and/or your "benefits eligible" dependent family members are able to take advantage of any of these BestCare services:
Professional counseling sessions
Up to five counseling sessions for your situation at no cost to you.

Unlimited access to the Best Care EAP website
Including on-demand webinars, informative articles and information on a variety of topics.

Health, wellness and leadership/management training
Sessions offered at your worksite as scheduled by your employer.
For more information, visit BestCareEAP.org or call (402) 354-8000 or (800) 801-4182.