News and Events
HIPAA Alert: Safeguarding Written Information
Published: July 21, 2015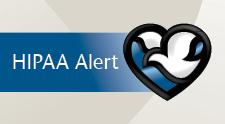 The majority of HIPAA breaches occur due to accidental disclosures of protected health information (PHI) through mishandling of paper records.
Recent examples at Methodist include:
Wrong visit summary handed to patients at check-out.
Patient roster stapled to a patient's visit summary.
Lab results for one patient put in another patient's envelope.
Patient billing statement sent to wrong person or wrong address.
Patient rosters / census dropped in parking lot or left at non-Methodist businesses.
Medical records sent to the wrong fax number.
Identify the areas in your workflow where mistakes are most likely to occur. Then work with your manager to create a system that ensures separation of patient information and quick identification of any errors.
Questions?
To learn more about safeguarding written information, contact HIPAA Privacy Officer Tracy Durbin at (402) 354-4901.