Awards and Achievements
8 Methodist Employees Complete Healing Touch Course
Published: Nov. 20, 2023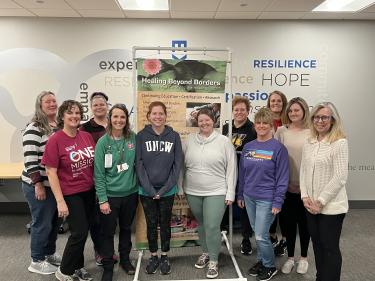 Congratulations to the eight Methodist employees who recently completed Healing Touch Course 1.
Healing Touch is a nonpharmacological approach to help manage pain, ease anxiety and more. The gentle, nurturing, compassionate form of energy therapy aims to complement the body's natural ability to heal.
Employees completing the two-day course were: 
Andrea Genereux, nurse on the Short Stay Unit at Methodist Hospital
Cassie Hall, nurse in Pre/Post-Surgery and Palliative Care at Methodist Hospital
Donna Wilhelm, social worker at Methodist Estabrook Cancer Center 
Lindsay Eyer, nurse coordinator 5 North at Methodist Hospital
Sarah Geilenkirchen, respiratory therapist at Methodist Hospital
Shanna Meegan, nurse coordinator for OB/GYN at Methodist Women's Hospital 
Stefanie Skokan, polysomnography tech in the sleep lab at West Dodge Medical Plaza 
Toni Fischer, polysomnography tech in the sleep lab at West Dodge Medical Plaza
The class was led by Jane Bies, a nurse, holistic health coach and certified healing touch practitioner and instructor. Healing Touch RNs Cathy Barnes, Jean Miller and Nikki Stanley were also instrumental in helping the course run smoothly.
In a survey after the class, some participants wrote: 
"I hope to better care for patients on my unit with pain and anxiety."
"I liked that I picked up some tools for self-awareness through this class and will use them in general life situations."
"I have many patients with nausea, vomiting and pain. I can't wait to use techniques to help with this." 
 
Next Healing Touch Class
The next Healing Touch training opportunities will take place Feb. 3-4 and May 1 and 8. Sign up here.
Learn More About Healing Touch
Read more about Healing Touch at Methodist in the summer 2022 issue of The Meaning of Care Magazine, or watch the video below.