Awards and Achievements
Methodist Hospital Nurse Lucy Gonzalez Honored With The DAISY Award
Published: Nov. 15, 2023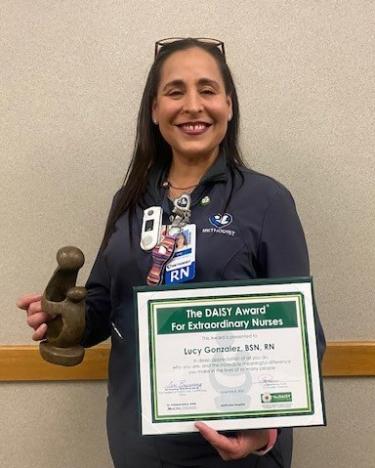 The DAISY Award for Extraordinary Nurses honors caregivers for their extraordinary skill and compassion. Over 5,400 organizations worldwide work with The DAISY Foundation to recognize deserving nurses. Learn more about The DAISY Award here.
---
Congratulations to Lucy Gonzalez, BSN, RN, a nurse in the Progressive Care Unit at Methodist Hospital, for being honored with The DAISY Award! She was nominated by several family members of a patient. Included in the family's nominations: 
"Lucy consistently went above and beyond the call of duty to ensure my mother's comfort and well-being. From the moment they introduced themselves, it was evident that Lucy possessed a genuine passion for patient care. Her warm smile, calming demeanor and compassionate approach immediately put my mother at ease during what was a challenging and uncertain time for her and her family. … Lucy consistently provided emotional support, offering words of encouragement during difficult moments. She sat with my mother in the night and would talk with her and listen to stories about her family. Her empathy and genuine concern for my mother's well-being, as well as the immediate family, extended beyond the physical aspects of healing, making a profound impact on the family. Furthermore, Lucy displayed incredible professionalism and dedication to her profession right up until my mother took her last breath."
---
Do you know a nurse who is deserving of The DAISY Award? Nominations can be submitted by patients, family members, colleagues or "anyone who experiences or observes extraordinary compassionate care being provided by a nurse." To nominate a Methodist nurse for The DAISY Award, click here.