Awards and Achievements
Methodist Women's Hospital OB/GYN Nurse Coordinator Heather Hansen Honored With The DAISY Nurse Leader Award
Published: May 16, 2023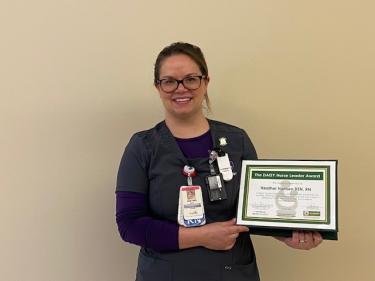 The DAISY Nurse Leader Award honors those who may not typically provide direct patient care and shines a light on those who work to foster a positive environment where skilled and compassionate care thrives. This award recognizes nursing directors, managers, assistant managers, coordinators, educators, preceptors and many more leaders in the nursing arena. Over 5,400 organizations worldwide work with The DAISY Foundation to recognize deserving nurses. Learn more about The DAISY Award here.
---
Congratulations to Heather Hansen, BSN, RN, an OB/GYN nurse coordinator at Methodist Women's Hospital, for being honored with The DAISY Nurse Leader Award! Hansen was nominated by OB/GYN staff nurse Becca Lerdahl, BSN, RN.
The award partially resulted from Hansen's actions after a patient exhibited physical aggression toward Lerdahl. The nomination included the following:
"Heather helped to make sure I was physically OK, first. Then, without any hesitation, she took over all my patients, while also having patients of her own, so that I could step away to get checked out. When I came back to the unit, Heather insisted on letting me go home and acted as if it wasn't a big deal. She made me feel so cared for. I really can't thank her enough for that day! Our cores on our units sometimes need to take patients, so this means they are taking three, even four patients while being the core at the same time. Heather can juggle all of this with ease. It's almost magical to watch. I honestly have no clue how she does it most days. She is truly The Meaning of Care."
---
Do you know a nurse who is deserving of The DAISY Award? Nominations can be submitted by patients, family members, colleagues or "anyone who experiences or observes extraordinary compassionate care being provided by a nurse." To nominate a Methodist nurse for The DAISY Award, click here.