Awards and Achievements
Bertram Demby Is Methodist Hospital's Employee of the Month for May 2023
Published: May 1, 2023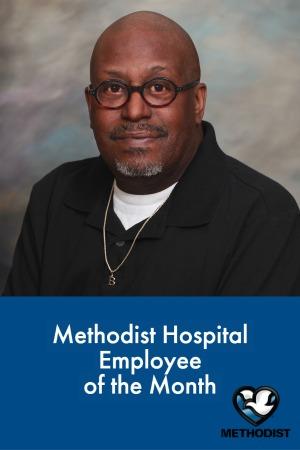 Bertram Demby is a product coordinator II in the Main Surgery Department. The Nebraska Methodist College alumnus embodies our core values of integrity, excellence, learning, compassion, teamwork and respect in everything he does. Bertram has been a Methodist employee for over 21 years.
From his nomination: "Bertram goes above and beyond every single day to help the OR staff and ensures that absolutely everything runs smoothly in the OR. Bertram is the best resource for his peers as he is the first one we call when an instrument is needed. He is always willing to teach staff where something is or how to do something. Bertram never complains and always makes sure to tell everyone to have a great day. He truly cares that things are done correctly and conducts his job with a positive attitude. He deserves to be recognized because he doesn't get enough recognition for what he does."
Congratulations, Bertram, on being selected as Methodist Hospital's Employee of the Month!
---
To nominate a fellow Methodist Hospital employee for the Employee of the Month Award, submit a completed application form to Angie Anderson in Administration. Each nomination is kept on file for review for six months. The Employee of the Month nomination form can be found by searching under the "Forms" tab on mhsintranet, or click here.