Awards and Achievements
Methodist Pre-Surgery Nurse Clare Connelly Honored With The DAISY Award
Published: April 27, 2023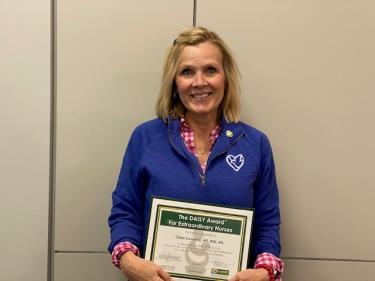 The DAISY Award for Extraordinary Nurses honors caregivers for their extraordinary skill and compassion. Over 5,400 organizations worldwide work with The DAISY Foundation to recognize deserving nurses. Learn more about The DAISY Award here.
---
Congratulations to Clare Connelly, MPA, BSN, RN, a pre-surgery nurse for Methodist Hospital and Methodist Women's Hospital, for being honored with The DAISY Award! Clare was nominated by Jasmine Howe, BSN, RN, CVN, team leader for Pre-Surgery at Methodist Hospital.
The award resulted from Clare's actions after taking a call from an out-of-town patient who had an accident in a Methodist Estabrook Cancer Center bathroom. The nomination included the following:
"The patient said, 'I was so embarrassed. It was horrible. And Clare was so kind.' Clare comforted and reassured them that she would get help. Clare was able to call the head and neck oncology office and let them know of what had happened while also staying on the phone with the patient so they wouldn't have to be alone until help arrived. I witnessed this act of compassion and kindness as it was happening, overhearing Clare's comforting, kind, understanding words to the patient in their time of need.
"The patient said, 'Clare was so thoughtful. ... And I was crying so hard, I could hardly talk.' They went on to say, 'An award should be given to her. I was so desperate. I was hyperventilating. So thankful she was there for me!'" 
---
Do you know a nurse who is deserving of The DAISY Award? Nominations can be submitted by patients, family members, colleagues or "anyone who experiences or observes extraordinary compassionate care being provided by a nurse." To nominate a Methodist nurse for The DAISY Award, click here.