Awards and Achievements
Jasmine Howe, Team Leader for Pre-Surgery at Methodist Hospital, Honored With The DAISY Nurse Leader Award
Published: April 27, 2023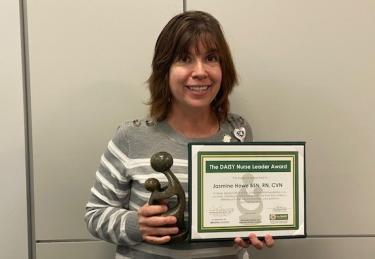 The DAISY Nurse Leader Award honors staff members who don't typically have direct patient care as part of their work and those who have created an environment where compassionate, skillful care thrives. Over 5,400 organizations worldwide work with The DAISY Foundation to recognizing deserving nurses with a variety of awards. Learn more about The DAISY Foundation here.
---
Congratulations to Jasmine Howe, BSN, RN, CVN, team leader for Pre-Surgery at Methodist Hospital, for being honored with The DAISY Nurse Leader Award! She was nominated by coworkers Linda Weiler, RN; Colleen Brown, BSN, RN; and Barb Haskin, BSN, RN. The nominations included the following:
"She comes work every day in a cheerful mood. She has even been working on Saturdays because we have been so busy. She meets with us every month and asks if we have any concerns and if there's anything we can do to improve our department. She is a great leader who goes above and beyond every single day."
"She has this gentle disposition that's immediately warming to anyone who meets her. She greets each day with a warm, genuine smile and hello. She leaves these little notes all around the department to let each of us know she is thankful for our time given. She listens to our concerns and follows through with absolutely everything, right down to the last detail. She not only is our manager but also steps in and does our job, right alongside of us when needed. She is a very active, hands-on manager." 
"She encourages so many of us each day. I'm not afraid of not knowing something, and I'm not afraid to ask the same question over and over until it finally sinks in. Why? Because Jasmine allows each of us to learn in a variety of ways. She sees the positive in all who cross her path."
"Jasmine is the best leader I've ever had. She goes to bat for her employees every day. Her leadership qualities are outstanding. Our department needed a strong leader when she was given the position, and she took on the position with great leadership, care and compassion."
"Jasmine is always doing the right thing for our patients. She has created a stable work environment where employees can go to her for problems, personal and professional. She treats each of us with respect and compassion, and she encourages us to achieve personal and professional goals. Jasmine has helped our department overcome adversity with staffing and makes it fun and easy to come to work each day."
---
Do you know a nurse who is deserving a DAISY Foundation award? Nominations can be submitted by patients, family members, colleagues or "anyone who experiences or observes extraordinary compassionate care being provided by a nurse." To nominate a Methodist nurse to be honored, click here.