News and Events
The Core of What We Do: Care Navigator Kathy Sindelar Loves Knowing She's Made a Difference for Patients
Published: April 14, 2023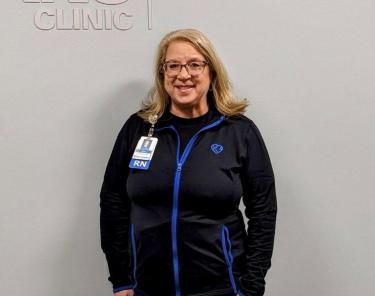 In "The Core of What We Do," you'll learn more about Methodist's core service lines – primary care, oncology, cardiology, women's health and orthopedics/surgical services – and the people whose dedication makes them so impactful for our communities.
Kathy Sindelar, BSN, RN


Cardio/Pulmonary RN Care Navigator
Methodist Physicians Clinic Heart Care Center in Council Bluffs

 

Why is this service line so important? How does this service contribute to The Meaning of Care?
The cardiology service line is important to Methodist because it offers state-of–art cardiac care in Omaha, Fremont, Council Bluffs and surrounding areas. It contributes to The Meaning of Care by being able to reach individuals in so many outlying areas, diagnosing and treating a multitude of cardiac diseases and issues.
What's something surprising about cardiology at Methodist that people may not know?
A few facts about cardiac services in the Council Bluffs area:
Methodist Physicians Clinic cardiologists provide services 24/7 at Methodist Jennie Edmundson Hospital, including heart catheterizations, angioplasties, cardioversions and cardiac electrophysiology services.

The Methodist Physicians Clinic Heart Care Center in Council Bluffs has a new congestive heart failure program that's staffed by nurse practitioners and assisted by RN care navigators.

Methodist cardiology and vascular outreach programs expand to a 70-mile radius from Council Bluffs.

With bed shortages in other hospitals, Jennie Edmundson has been able to accept inpatient transfers from facilities up to four hours away.
Tell us more about your role.
As an RN care navigator, I follow congestive heart failure patients and COPD patients at the highest risk for hospitalization or readmissions. I receive referrals from cardiologists, pulmonologists and inpatient case managers. I monitor these patients closely via frequent phone calls and during their follow-up clinic appointments, continually providing education, reviewing lab and test results, and monitoring for any changes in their symptoms. I work closely with our nurse practitioners and providers, updating them with any concerns and notifying our patients of care plan changes (whether it be med changes, need for labs, need for sooner appointments, etc). I follow these patients for at least 90 days and have an average case load of approximately 80 patients at a time.
Through the generosity of the Jennie Edmundson Foundation, I have scales and pulse oximeters available to provide to patients in need. The Foundation also assists patients with transportation and medication needs. I also work closely with several entities within the community, when necessary, to make sure my patients' needs are met.
What do you enjoy most about your team?
I enjoy the team approach and collaboration in cardiology. Everyone has a specific role, but we all seem to bounce ideas off one another and are able to help each other out if needed.
Do you have any memories that stick out?
I love it when my patients come to their appointments with their daily weight logs and food diaries in hand, showing me that they have been following the low-sodium diet, their weights are at baseline and they are taking their meds as prescribed. It really makes me feel like I am making a difference when patients begin to participate in their care, feel comfortable calling me with any concerns or even just call out of the blue to check in and tell me they're doing OK.
Why did you come to Methodist, and why have you stayed?
I came to Methodist eight years ago for a change. Following graduation from nursing school, I had been with the same health care system for 28 years, always in cardiology or pulmonology. That health care system was going through some major leadership changes, and my husband told me it was OK to "think outside the box" and look at working elsewhere.
I have stayed with Methodist because they care not only for their patients and families but also for their employees. I feel at home at Methodist. Everyone is treated as family.
What does The Meaning of Care mean to you?
The Meaning of Care, to me, is knowing at the end of each day, I've done my best in caring for my patients and their families, making sure all their needs have been met. It's feeling that I've made a difference.
What's the best thing about your role at Methodist?
The best thing about my role is the relationships and continuity of care I'm able to develop with my patients and their families. In being able to follow an individual closely for at least 90 days, I'm able to gain their trust and see positive outcomes from time spent and education I've provided. It's that aha moment that I've made a difference in patient care and many patients' lives.              
What do you enjoy outside of your time at Methodist?
Outside of work, I enjoy spending time with family, cooking, gardening and traveling. My husband and I are currently planning a summer vacation with our grown children to visit our son who lives and works in Los Angeles.