Awards and Achievements
Methodist Hospital Nurse Jen Hinton Honored With The DAISY Award
Published: April 13, 2023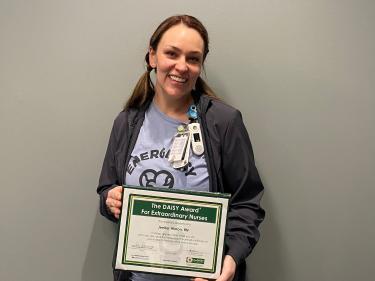 The DAISY Award for Extraordinary Nurses honors caregivers for their extraordinary skill and compassion. Over 5,400 organizations worldwide work with The DAISY Foundation to recognizing deserving nurses. Learn more about The DAISY Award here.
---
Congratulations to Jen Hinton, RN, a nurse in the Methodist Hospital Emergency Department (ED), for being honored with The DAISY Award! Jen was nominated by Jody Morris, team leader for the ED, and radiologic technologist Baylie Williams. The nomination included the following:
"There was a patient who came in the ED who had fallen and was hysterical. ... You could tell how much Jen cared about this patient. We had multiple exams, and it was hard to get this patient to calm down. Jen was the trick. She was so compassionate and gentle when talking to her. It showed me why Jen is a nurse; it definitely seems like her calling. The patient really only calmed down when Jen was talking to her. When Jen would step away for a second, the patient would specifically ask for Jen, and that just shows how much trust she had in her. Being an employee and witnessing this made me even more grateful to work at Methodist. You see people's true colors in difficult situations, and Jen deserves to be recognized for how calm, compassionate, loving and gentle she was with this patient."
---
Do you know a nurse who is deserving of The DAISY Award? Nominations can be submitted by patients, family members, colleagues or "anyone who experiences or observes extraordinary compassionate care being provided by a nurse." To nominate a Methodist nurse for The DAISY Award, click here.