News and Events
Lisa Marcuccio's Passions: Supporting People by Day, Jamming Out on Stage by Night
Published: April 5, 2023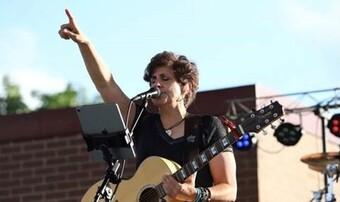 Preparing physician employment agreements. Managing medical malpractice claims. Reviewing medical service agreements. Those are things Lisa Marcuccio is likely doing during the day as the litigation and contract manager for Methodist's Legal and Compliance Department.
On a weekend night, though, you might find her at a bar or coffee shop, behind a mic with a guitar over her shoulder and singing an Aretha Franklin song. That's because she's the lead singer for The Personics and Lisa Lisa & the Acoustic Jam, a pair of cover bands that perform around the Omaha area.
"I'm helping people," she said. "At work, during the day, I'm helping people in a supportive role. And on nights and weekends, I play music to help people be a part of something other than the daily grind."
Well-Rounded Musical Influences
Marcuccio credits both her mother and sister as being influences on her musical journey, which has led her to finding ways to share her musical talents with others.
Her first memories of music are from when her mother would turn on some tunes during Saturday morning chores. Marcuccio would get lost in the music.
Being the youngest of four, she listened to a variety of albums that any of her older siblings had.
Marcuccio has been playing music for over 30 years, including more than 25 as part of The Personics, a five-person cover band.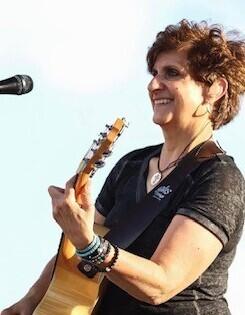 The Personics perform covers of songs from artists including The Go-Go's, Maroon 5, P!nk, the Steve Miller Band, Aretha Franklin, Tom Petty, Michael Jackson and Miranda Lambert.
Within the past five years, Marcuccio saw and understood that people who attend a Personics show might not want to always listen to loud music or party past the strike the midnight. So she shifted gears and pursued acoustic adventures. 
In 2019, she created Lisa Lisa & the Acoustic Jam, which includes a rotation of other talented musicians – Jay Hanson, Terry Olson, Jeff Carlson and Mark Peterson – who have been performing for many years throughout the Omaha community.
Lisa Lisa & the Acoustic Jam performs common acoustic songs and also turns other favorite tunes into acoustic versions. Their catalogue includes Creedence Clearwater Revival, America, The Jackson 5, Linda Ronstadt, The Beatles, Train, The Cure and Pure Prairie League.
"Whenever you go see a Lisa Lisa show, you never know what you're going to get because it's a different set list based upon who I play with," she said.
And while she's the lead vocalist for both bands, Marcuccio knows the real reason why she's had the chance to be on stage for nearly three decades.
"I'm blessed, lucky and smart enough to surround myself with people who are more talented than me," she said.
"Helping People Every Day"
For the past seven years, Marcuccio has held her current role in the Methodist Legal and Compliance Department.
Her day-to-day changes depending on what's on her schedule, or if someone from a hospital or clinic sends her an email or gives her a call in search of immediate assistance.
On any given day, Marcuccio might be preparing physician employment agreements, sitting in on a medical malpractice mediation or trying to settle a case. She also works on discovery for outside counsel, addresses questions about consent or advance directives and gives many medical-legal presentations to keep Methodist employees updated on the latest laws and policies.
"I think I'm making a difference and helping people every day," Marcuccio said.
She added: "What I do behind the scenes is important to support staff and patients. I'm an advocate for our staff and I'm an advocate for our patients."
Just like when she's on stage, Marcuccio knows that her work can't be done without the support of others, especially litigation assistant Elaine Weidman.
Marcuccio believes that quality collaboration leads to her team being able to better support the system.
Putting On a Show
Marcuccio understands the importance of her job at Methodist, but she also believes that she has an important role as a musician.
"I love entertaining people and allowing them to get away from their daily grind, disconnect and have a good time."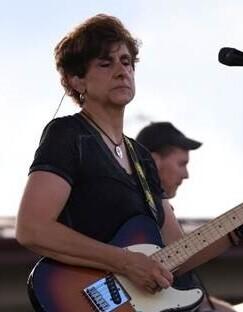 During the start of the COVID-19 pandemic in 2020, Marcuccio and her bands found creative ways to continue sharing music. They held driveway shows and encouraged attendees to donate food items and school supplies. She also hosted weekly Facebook Live events that featured her performing solo with her guitar.
"We did a really good job of pivoting and figuring out a way to continue to entertain people and provide this musical escape," she said.
Now, Marcuccio stays busy nearly every weekend performing with either The Personics or Lisa Lisa & the Acoustic Jam. And each time one of the bands is performing, she can't help but smile seeing the audience sing along and dance.
"We help people make memories and have a good time doing it."
Do you or a coworker have an interesting hobby that could be featured in Employee Connections? Contact us here.