Awards and Achievements
Michelle Desimone Is Methodist Hospital's Employee of the Month for April 2023
Published: April 1, 2023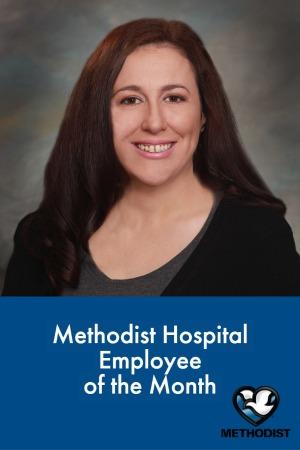 Michelle Desimone is a nurse coordinator in the Rehabilitation Department. The Nebraska Methodist College graduate embodies our core values of integrity, excellence, learning, compassion, teamwork and respect in everything she does. Michelle has been a Methodist employee for over six years.
From her nomination: "There are a lot of great nurses who work at Methodist Hospital, but there are a select few who go above and beyond. Michelle is one of those nurses. Not only does she care for her patients and their families, but she constantly goes the extra mile for the staff she works with. She represents The Meaning of Care through the strong work ethic she upholds, combined with a sympathetic demeanor she presents to everyone around her. She shows great leadership and is willing to step in and help in any way to provide excellent care for all of the patients. Michelle is constantly giving her all in every aspect and deserves to be recognized for it."
Congratulations, Michelle, on being selected as Methodist Hospital's Employee of the Month!
---
To nominate a fellow Methodist Hospital employee for the Employee of the Month Award, submit a completed application form to Angie Anderson in Administration. Each nomination is kept on file for review for six months. The Employee of the Month nomination form can be found by searching under the "Forms" tab on mhsintranet, or click here.