News and Events
The Core of What We Do: Pam Haschke Is Always Learning in Methodist Hospital's Community-Leading Surgical Services Department
Published: March 13, 2023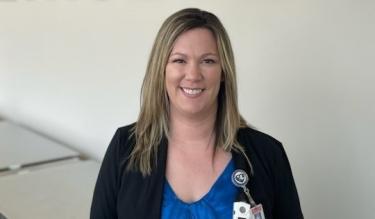 In "The Core of What We Do," you'll learn more about Methodist's core service lines – primary care, oncology, cardiology, women's health and orthopedics/surgical services – and the people whose dedication makes them so impactful for our communities.
Pam Haschke, MSN, MBA, RN, NE-BC
Interim Service Executive for Surgical Services
Methodist Hospital
Why is this service line so important? How does this service contribute to The Meaning of Care?
Surgical Services touches many of the other service lines. For more than a decade, we've been the leader in surgical volume in our community. We truly want to be the best for our patients, physicians and staff. We contribute to The Meaning of Care by treating patients like our own family members. We work to show how much we truly care about people.
What's something surprising about Surgical Services that people may not know?
Surgical Services at Methodist Hospital are made up of many different departments that all affect one another. These departments can work on upward of 120-130 surgical cases a day.
Tell us more about your role.
As interim service executive for Surgical Services, I oversee departments at the Methodist Hospital campus, including Preop, PACU, Surgery, Short Stay and Anesthesia. My responsibilities include managing and directing the departments from the time the patient checks in until they discharge or are admitted to an inpatient unit. This includes the team that sets up and tears down the operating rooms between cases and at the end of the day, along with assisting physicians with what's necessary to take care of patients.
What do you enjoy most about this team?
I enjoy the people. Surgical Services is made up of some of the best nurses and techs that I know. They all truly want what's best for the patient and want to see the team succeed. Surgery works hand in hand with many different physicians' specialties and with anesthesia.
Do you have any memories that stick out?
I think the most memorable moment was when the Methodist Hospital surgery expansion project was completed in 2016. We were involved in the design and implementation of a beautiful new space that we love. Opening a new space was very exciting and definitely a new adventure to work through.
Why did you come to Methodist, and why have you stayed?
I graduated from nursing school in Lincoln. At the time, the only Magnet-recognized hospital in the state was Methodist Hospital. I made the decision at that time that I wanted to work for a Magnet hospital, and I have never looked back. I've stayed because Methodist cares about their employees, and I feel at home here.
What does your typical day look like?
Working in a very busy surgical department, I am always on the go. A typical day includes lots of emails, rounding with staff and physicians, reviewing new products and equipment, and reaching out to offices to assist in scheduling, communication and coordination of patient care.
What does The Meaning of Care mean to you?
The Meaning of Care means treating others as your family or loved one would want to be treated. In Surgical Services, we strive to take the time for family members to see each other prior to surgery, connect with a patient on what matters to them and really demonstrate that we care about them as a person.
What's the best thing about your role?
I always get to learn something new. It could be my involvement in a new procedure physicians want to complete or when a better product is on the market, or learning about what's happening in other departments. I also love the fact that I get to work closely with the physicians.
What do you enjoy outside of your time at Methodist?
I have three kids who keep me very busy with activities and sports, along with my adjunct faculty position at Nebraska Wesleyan University. I enjoy being busy!