Awards and Achievements
Marka Carlson Honored With the SHINE Award for Nursing Assistants
Published: March 3, 2023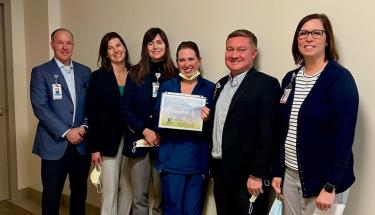 The Shine Award for Nursing Assistants honors these staff members for the special role they play in patient care within the Methodist Health System. Their Supporting Hands assist our nurses In achieving Nursing Excellence and quality patient outcomes. 
---
SHINE Award Winner
Marka Carlson
Marka Carlson, a nursing assistant at Methodist Fremont Health, has been honored with the Shine Award. She received two nominations that illustrate her compassionate care:
"Marka stepped right in and changed Mom's bed, gave her a shower and took her for walks. My mom loved her and smiled the whole way. Thank you, Marka. You are a blessing!"

"Marka continually shows kindness, understanding and compassion. She goes the extra mile, exudes patience and offers to help in any situation. The bed I was in stopped working and no longer did a weight reading. After a couple of days, about six people showed up with a stand-up scale to get my weight. My legs are weak, and although I tried to stand long enough, the scale wouldn't register a weight, and I could no longer stand. I had to sit back on my bed and have someone lift my legs around so I was lying down again. I had sores on my bum and under my stomach that were extremely painful from moving around. I looked around and realized how many people it took to help me, and I let them down. I was disappointed in myself. I was mortified and felt humiliated that I was in the situation I was in. I was crying, at a very low point, and Marka came to my side and talked with me. She was sweet, compassionate and encouraging, and she talked with me until I could stop crying. She became a friend, exactly what I needed, and she helped me to stop feeling bad about myself. Marka has always stepped up quietly helping me in many different ways. She's fun, funny and hardworking and kind. She deserves the SHINE Award because she's so humble. I appreciate Marka and all the times she's come to my side and helped me."
Congratulations, Marka, on receiving the SHINE Award. We thank you for all your hard work to show patients and their families The Meaning of Care.
---
Nominations for the Shine Award can be made by patients, family members or fellow staff members. Nominate a nursing assistant by emailing SHINE@nmhs.org or filling out this nomination form.